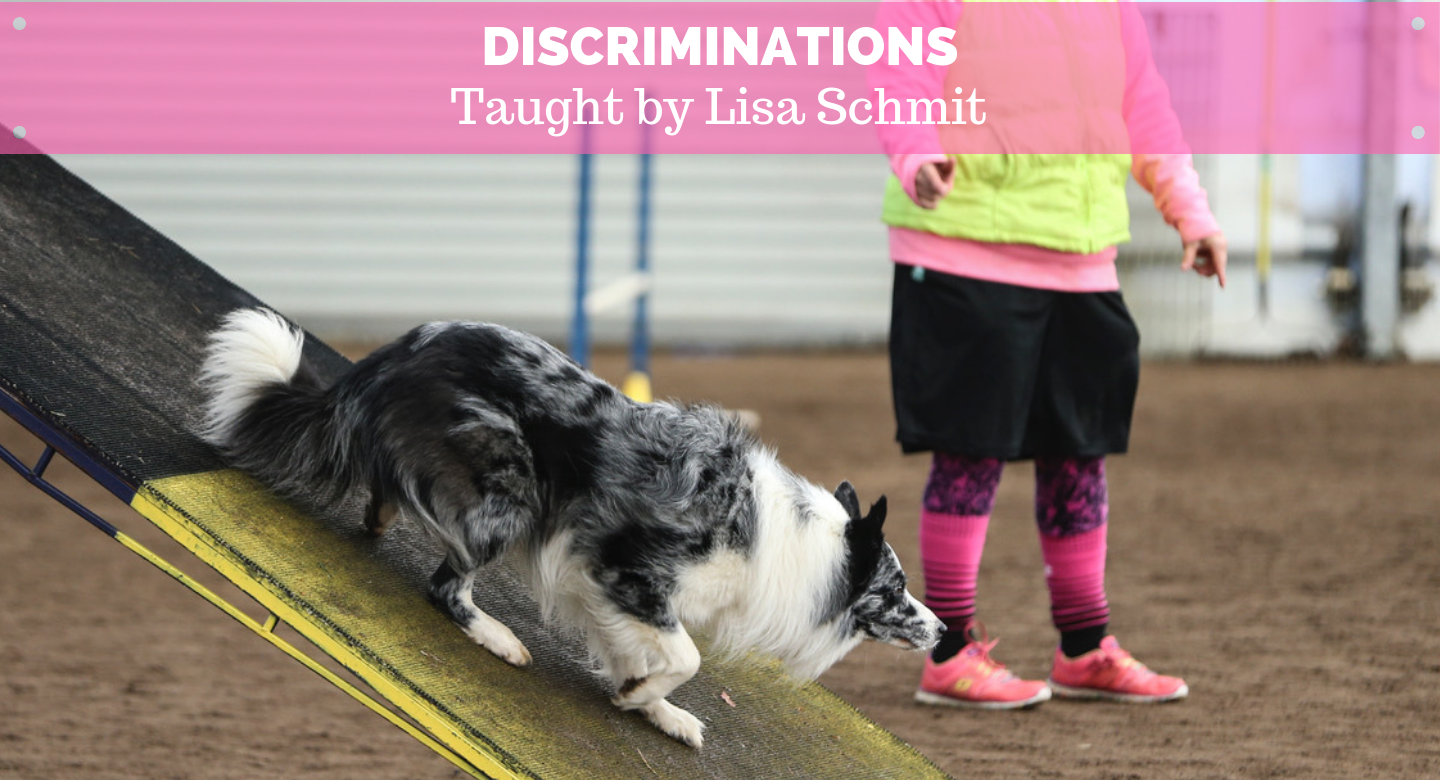 Discriminations
Do you have a hard time getting discriminations?
Can your direct your dog to the correct obstacle when there are two obstacles close together?
Many classes in agility have discriminations. It can be a tunnel contact discrimination, two tunnels or even two different obstacles. In this class, we will go over the steps to teach your dog consistent discriminations. This class will go over how to train for consistent, fast and independent discriminations. With each lesson, I will go over when to cue and what cues to direct your dog through the sequence.We will discuss your cues. What are you cues? Are they consistent? When does the cue need to happen? Are you on time? Late?

Step by step instructions, videos and assignments are given. Multiple videos with different dogs will be shown including her young pup Inspire.During this class, you will see videos of Inspire learning discriminations from the start! So you will see the very beginning stages of training as he learns these skills.This class will start with the groundwork exercises to teach discriminations without equipment and move on to working with hoops/jumps, tunnels, and contacts.

There will be discussion threads to ask questions and post video for review. Everyone is a participant. Each class is broken into sections with one or more lessons within each section. You can post ONE short 1-2 min video per section for instructional review.
Each section will post to the site every 7 days.The course is open for video submission, questions, review and comments for 90 days after the first day of class - access to material lasts for 1 yr.
Curriculum:
Groundwork for Discriminations
Two Jump/Hoop Discriminations
Two Tunnel Discriminations
Straight on Approaches to Discriminations
Pulling and Rear Crossing to Discriminations
Different Lead-outs to Discriminations
WHY TAKE THIS CLASS
You will learn:
What cues to direct your dog to correct obstacles
How to teach discriminations from the ground up
How to build and increase discrimination skills
How to increase your distance while performing discriminations
What level?
Open to all dogs over 10 months that can perform contact, hoops or jumps and tunnels.
Required space: 50x70 Required equipment- dogwalk or aframe, 2 tunnels and 6 jumps or hoops
Disclaimer: The information in this class may overlap or appear in other classes due to the foundation skills needed.
Your Instructor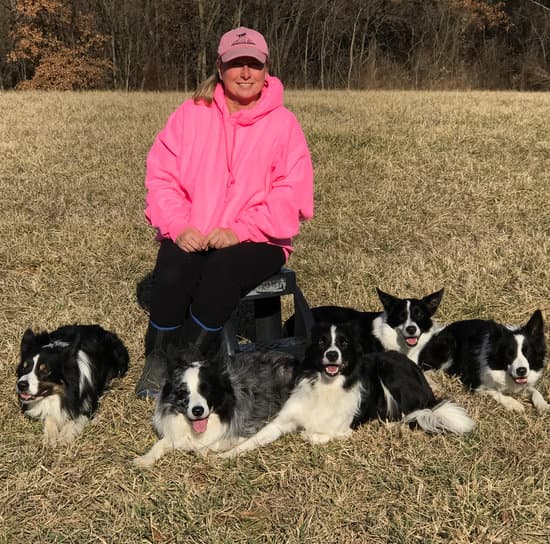 Certified Canine Fitness Trainer
Certified Pet Massage Practitioner
Bobbie Lyons K9FITteam Member
Lisa is the owner of In The Zone, LLC.and is one of the most accomplished handlers in NADAC. Her consistent, clear positive approach to dog training is evidence with her continual success with multiple dogs! She offers agility, conditioning and massage seminars across the continent and puts on about 12 NADAC trails a year.
Lisa has come home from the NADAC Championships with 10 trophies with 5 different dogs. She has finished in Overall Top 3 at NADAC Champs 22 times with 9 different dogs including her Brittany and Aussie. Tandem, JP7 and Revolution earned the coveted Purple MODSQUAD award--Master of Distance and Speed which requires high level distance handling and speed. Less than 25 dogs in the world have this award and Lisa has three of them. JP7 and Tandem earned the Distance Cup Award. Nine of her dogs have over 175 NATCHES, over 45 Speed Stars. Eight of her dogs have almost 200 Bonus Runs (requires big distance skills). Her dogs are consistently in the Top 10 every year and in most categories in the NADAC Hall of Fame.
To learn more about Lisa visit: www.inthezoneagility.com
Frequently Asked Questions
When does the class start and finish?
Read each class description to find out when class starts. Some start right after you enroll and some will start after the enrollment period ends. New material will be posted every 7 days after class begins to allow you time to process the information and start the training process. Video review and commenting will be open for 90 days from the start of class allowing you plenty of time to work through the material, take and edit video and formulate your questions as well as allow the instructor time to review and give feedback. We have built in extra time after all class materials are available so that students that are behind or students still working on behaviors can ask questions and post video for review and comment.
How long do I have access to the class?
For one year from the start of class. The school reserves the right to modify, update or remove this class at any time.
What is your refund policy for current classes?
You will receive a refund if you request your cancellation at least 1 day before the class begins. There are no refunds after class has started.
What if I am unhappy with the class?
We make every effort to offer valuable information at an affordable rate. We suggest you read the class description carefully before making your purchase to determine if the class is right for you. Because there are many levels of trainers, there will be material that is review for some and new to others. For those that are review, it will give you an opportunity to look at what you have trained and refine the behaviors as needed. If you are unsatisfied with your purchase, please contact admin at
[email protected]
Can instructors diagnose or treat injury?
No - instructors and assistant instructors cannot diagnose or treat injury. They can design fitness plans for healthy dogs or dogs that have a written release from veterinary care and/or veterinary rehabilitation care.