Lisa Schmit, PhD, CCFT, CPMP has been active in agility for over 20 years. She is a NADAC Certified Clinician, Certified Pet Massage Practitioner, FITPAWS Master Trainer, Certified Canine Fitness Trainer and a member of Bobbie Lyon's K9 Fit Team. She gives agility, conditioning and massage seminars across the continent. She teaches online classes through in thezoneagility.com as well as through Bobbie Lyons Canine Campus -https://www.bobbielyonscaninecampus.com. Lisa hosts over 15 NADAC Trials yearly as In The Zone Agility and In The Zone Agility of Illinois. In September 2018, Tandem earned the coveted Purple MODSQUAD award--Master of Distance and Speed which requires high level distance handling at speed. JP7 achieved his Silver MODSQUAD in Dec 2018. There are less than 30 dogs in the world that have achieved a MODSQUAD. Revolution only need one more bonus to achieve this award also. Lisa has come home from the NADAC Championships with 10 trophies with 5 different dogs. At the 2018 NADAC Championships, Tandem was the NADAC World Large Vet Dog Champion and NADAC Large Vet Dog Champion. JP7 was NADAC World Starter Stakes Reserve Champion and NADAC Reserve Champion Starter Stakes (high level distance class) and Distance Bonus Cup Champion. Here is a link to 2018 Champs Highlights Video: https://www.youtube.com/watch?v=VNRR3D9fogg At the 2017 NADAC Championships, Revolution was Reserve Champion, JP7 achieved 4 sashes in Starter Stakes, and Tandem and Synergy also made it to finals. In 2017, her four dogs earned 26 NATCHES and 10 Speed Stars. In 2015, Tandem won the highest number of Bonus Points Trophy in Starter Stakes (class at champs that required high level distance skills). From 2008-20011, Moxie and Lisa won their class at champs! In 2007, Expedite won the Skilled Veteran Class and in 2006 Haley (Brittany) won Double Digit Class. Her dogs are consistently in the NADAC Top 10 with Jet was the Highest Scoring Skilled Dog in 2007 and Moxie the Highest Scoring Skilled Dog in 2008. Revolution, JP7, Tandem, Synergy, Moxie and Expedite have also earned numerous NADAC Platinum Speed Star Awards. Revolution, JP7, Tandem, and Synergy have also earned numerous NADAC All Around NATCHES and Speed Stars. Lisa and her dogs have earned over 70 NATCHs. Eight of her dogs have qualifying bonus runs. To view a complete list of accomplishments, videos of runs and photos please visit http://inthezoneagility.com.
To view some bonus' runs http://inthezoneagility.homestead.com/BONUS-RUNS.html
Lisa currently has five Border Collies including a young dog. Four are competing now and one is deaf (Synergy). Running a deaf dog has brought a new element of training which has made her a much better handler and trainer. She has owned trained and completed with 12 dogs which have ranged from soft to hard and slow to fast and novice to multiple championships. This allows Lisa to bring real life experiences into her training that includes good foundation training, skill training, motivation and consistent, clear handling all in a fun positive way.
I am a consummate learner. I continue to take classes and attend seminars whenever possible. I continue to evaluate my training and adjust accordingly. I put on many seminars across the continent and in doing so, I meet lots of different teams with different issues. This has taught me to be open minded, to think on my feet and outside the box! I love to be challenged and to help people succeed.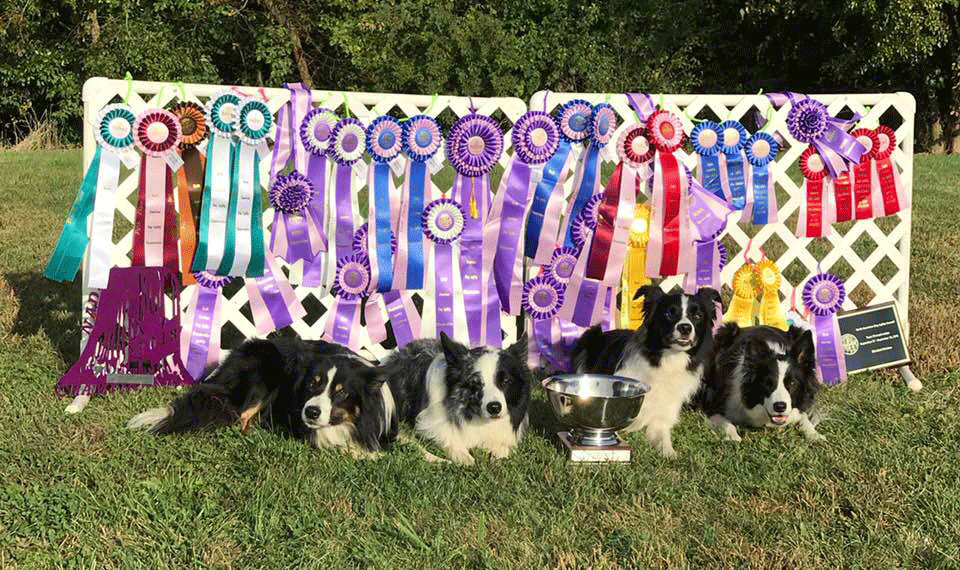 To learn more about Lisa's training philosophy click HERE