Enrollment Begins 10am Pacific on: July 1st, 2022 
and Ends: July 15th, 2022 @ Midnight

There's More to Cavalettis Then Stride Work
Learn How Versatile Cavalettis Can Be!
Packed full of a wide variety of exercises
this class will cover in-depth what you can do with cavalettis for strength, gait and limb awareness.
Lengthening and strengthening through the spine and core, improving limb awareness and strength is what this class is all about. 
Keep your dog strong and their stride length long during the hot and cold months when it's hard to get outside for longer activities.
Who Should Participate?
→ Any Healthy Dog!
→Puppies – before growth plate closure (limited repetition)
→Adult dogs
→Dogs with shortened stride
→Conformation dogs
→Dogs recently recovered from injury
→Dogs that lack core strength and stride length
→Dogs that are tight in the low back and pelvis
→Dogs that pace when walking with their owner
→ Dogs that lack confidence

Why Take This Class?
➤ Improves Proprioception (limb awareness)
➤ Improves Core and Joint Strength
➤ Lengthens Stride
➤ Improves Coordination
➤ Builds Confidence
➤ Learn how to properly space Cavalettis for stride work
➤ Learn when and how often to do Cavalettis
➤ Learn all about the creative uses for Cavalettis besides stride work
➤ Over 20 behaviors to choose from

Advantages of the Online Class
✔️ Convenience of online learning
✔️ More time to learn the material than the traditional in person class format
✔️ Work at your own pace in the convenience of your home
✔️ Access to the material for at least 1 yr.
"
This course was fun how she used dogs that were both very experienced and novice and how she would laugh when they would make mistakes. It shows how professional she is. I look forward to expanding my skills. Thank you
Marsha Durfee & Karma (GSD)
What's Included?


Discussion Threads
There will be discussion threads to ask questions.
Video Review
Working students can submit up to 3 minutes of video per lesson for instructional review.  Voiceover video review is done by screen-casting for a more personalized experience. Screen-casting is audio-visual feedback (the next best thing to a 1:1 conversation)
Start Date
Class will begin right after you enroll. This class is always open so some students will be ahead of you and some will be behind you.


Format
Each class is broken into Lessons, with one or more exercises within each lesson.


Timelines
The class is open for video submission, questions, review and comments for 90 days allowing you plenty of time to work through the material, take and edit video and formulate your questions as well as allow the instructor time to review and give feedback.
- access to material lasts for 1 yr. 
The school reserves the right to modify, update or remove this class at any time.

Curriculum:
Setups, Tips & Hacks for Cavalettis (including homemade options)
Cavalettis for Limb Awareness
Proper Height for Limb Awareness & Strength Exercises
Cavalettis for Stride Work
Proper Spacing
Proper Height for Stride Work
Proper Gait
Stride Extension
Cavalettis for Long-backed Dogs
Cavalettis for Strength
Class consists of 7 lessons with multiple exercises per lesson.
What Level are the Exercises? 
This course will have beginner to advanced exercise with most falling in the intermediate to advanced level. This class will focus specifically on the exercises taught and I will answer questions about the foundation needed but will not be teaching all the foundation movements (see suggested pre-requisite).

Suggested Pre-requisite - a basic understanding of clicker training and the following behaviors either on verbal or hand signal cue, using a target or lured are helpful, but not required:
➤ Nose Touch and/or Nose Touch Hold
➤ Chin Rest
➤ Go to Target or Mat
➤ Cone Wrap
➤ Independent Backup
➤ Right and Left Circles (Spin & Twist)
➤ Side Stepping
➤ Paw Target
Possible Equipment – substitution will be recommended if you don't have equipment used in the videos. FitPAWS is offering a 30% education discount. Klimb is offering a discount as well. Information to get the discount will be available upon enrolling.
▸ Cavalettis (cones & poles, set of 6)
▸ Homemade pvc pipe cavalettis
▸ Poles, agility jump bars, broom/mop handles, on crushed soda cans
▸ Cones/buckets
▸ Targets and mats
There are many possible equipment options or you may use something you have laying around your house.
Training Methods - A variety of training methods can be used to obtain the proper movement or position - shaping, luring, capturing, targeting and It's Yer Choice. These will be discussed in the video tutorials, in the forum and through video review but every tiny step will not be demonstrated in the instructional video. You will need to break each behavior down into small pieces so that your dog understands what is being asked.
Disclaimer: Some information in this class may overlap or appear in other classes due to the foundation needed for many behaviors, tricks and fitness exercises. In addition, there are overlapping skills needed for many different performance activities so you may see exercises that are the same but packaged up differently toward a slightly different goal.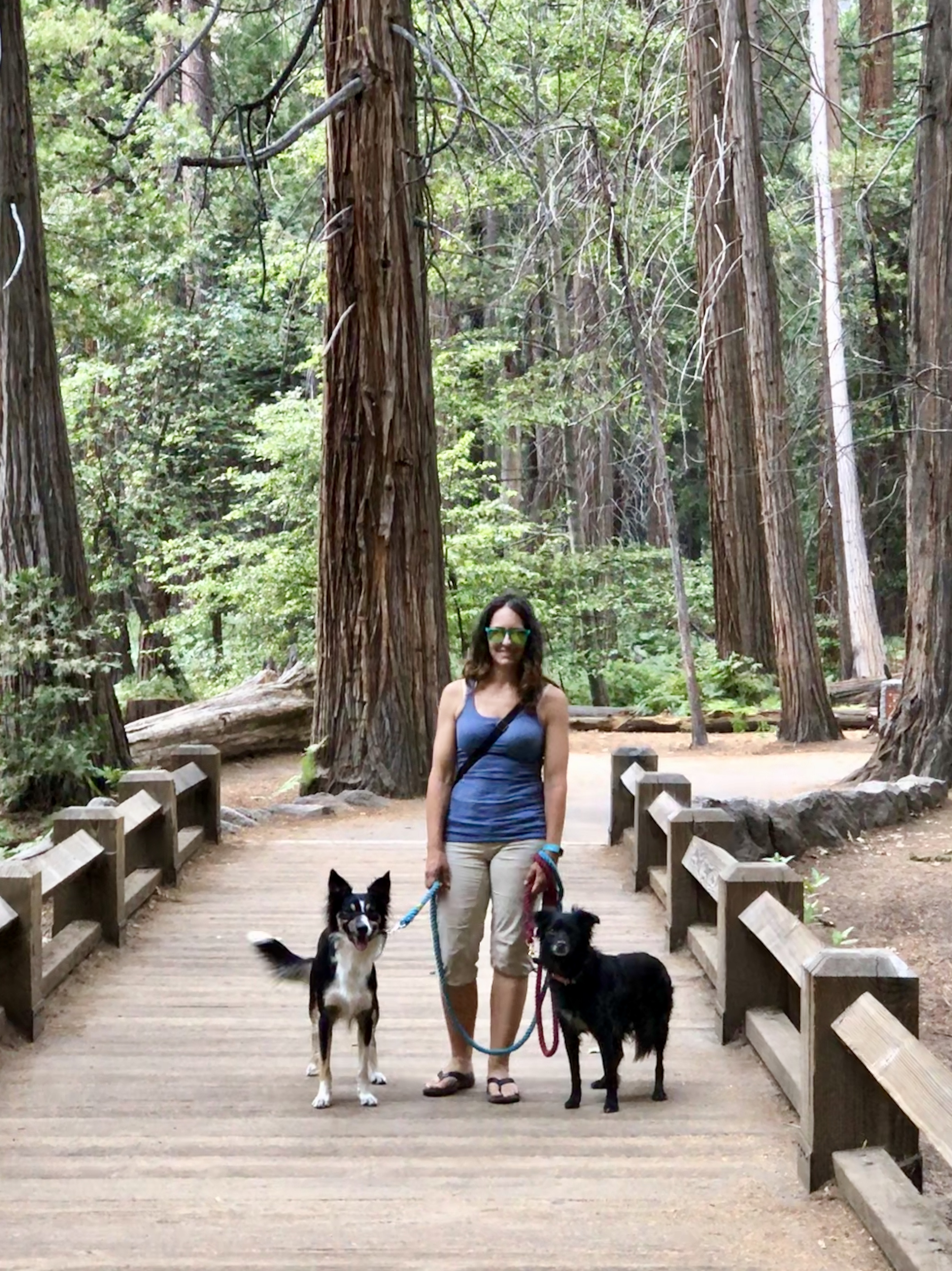 Danielle Hall, BFA, CCFT
Certified Canine Fitness Trainer
Bobbie Lyons K9FITteam Member
Danielle owns and operates K9 BeneFIT, which offers canine fitness training private lessons (both in-person and virtually), classes, and workshops in the Southern California area and beyond. 
Danielle completed the University of Tennessee Certified Canine Fitness Trainer program earning a "CCFT" certification. She is also a member of the Bobbie Lyons K9FITteam, an elite team of trainers passionate about canine fitness.
Along with fitness training, Danielle has enjoyed a variety of activities with her rescue dogs including agility, nose work, herding, tricks, dock diving, and disc. They also love to spend time outdoors hiking, camping and road tripping.
Danielle is also a lifelong horsewoman combining her knowledge of horses and dogs in both her training and keen eye for movement.
To learn more about Danielle visit:
Questions about the course?
Email the instructor Danielle Hall at
More Courses to Consider...