Enrollment Begins 10am Pacific on: November 1st, 2021 
and Ends: November 15, 2021 @ Midnight
Learn to Evaluate Equipment Choices and Substitutions for a Variety of Exercises Specific to Your BIG Dog.
Implement This Knowledge for Proper Form and Muscle Engagement!
SELF-PACED CLASS
As soon as you sign up, you have access to all the lessons.
This way you can pick and choose which exercises to work on.


Geared toward handlers with dogs that are 45 lb. up to giant breeds, this class will teach important equipment considerations, substitutions, and set-ups to ensure your dog has proper form and is set up for success. Width, inflation, and size of equipment matters! In addition, learn helpful ideas and exercises for fitness on the road - pack small for big benefits – for large dogs, alternatives to some cavaletti drills for the rail whacker, and valuable KLIMB, pad, or platform combinations. 
Discover a variety of diverse, beneficial exercises and combinations to properly strengthen your dog. While exercises will benefit dogs of all sizes, class is catered to offer suggestions for larger breeds that sometimes seem "not to fit" on some equipment! These exercises will reduce the chance of injury, improve strength and flexibility, enhance performance and increase quality of life for your dog! You'll broaden your mind to different choreography configurations.
Who should participate?
→ ANY HEALTHY BIG DOG!
Why take this class?
➤ Learn proper form and equipment progressions for big dogs – dogs 45 lb. and up!  
➤ Learn how to analyze your dog's form using different types of equipment so you may choose the proper piece to meet your goals!
➤ Acquire exercises for fitness on the road (pack light for big benefits!), alternative setups for some cavaletti rail drills, and beneficial platform (KLIMB) combinations. 
➤ Adapt the exercises to more difficult combinations – as suggested in class!
➤ Learn a variety of exercises with correct form and progressions that apply to any healthy dog. These will complement each other as you strive to work your dog in all planes of motion and your dog's core, hind, and front.  
➤ Bolster the strength, coordination, and injury prevention of dogs at any level, size, and age. Adapt the exercises to non-big dogs, too!
➤ Exercise and mentally fatigue your dog efficiently and correctly – this is especially helpful if you live in an apartment or townhome! What a fabulous way to condition, exercise, and mentally fatigue your dog.
➤ Implement this knowledge with over 25 exercises
Advantages of the Online Class
✔️ Convenience of online learning
✔️ More time to learn the material than the traditional in person class format
✔️ Work at your own pace in the convenience of your home
✔️ Access to the material for at least 1 yr.
What's Included?
SELF-PACED CLASS
As soon as you sign up, you have access to all the lessons.
This way, you can pick and choose which exercises to work on.


Discussion Threads
There will be discussion threads to ask questions.


Start Date
Class will begin right after you enroll. This class is always open so some students will be ahead of you and some will be behind you.


Format
Each class is broken into lessons, with one or more exercises within each lesson.


Timelines
The class is open for questions and comments for 90 days allowing you plenty of time to work through the material and formulate your questions.
- access to material lasts for 1 yr.
The school reserves the right to modify, update or remove this class at any time.
Curriculum:
Analyzing and implementing equipment choices 
Alternatives for the cavaletti crasher
Grab 2 KLIMBs and 2 pads: Part 1
Grab 2 KLIMBs and 2 pads: Part 2
Traveling fitness - Pack small for big (dog) benefits: Part 1
Traveling fitness - Pack small for big (dog) benefits: Part 2
Class consists of 6 lessons with multiple exercises per lesson.
What level are the exercises?
This course will have beginner to advanced exercise with most falling in the intermediate to advanced level. This class will focus specifically on the exercises taught and I will answer questions about the foundation movements needed but will not be teaching all the foundation movements (see suggested pre-requisite).
Suggested Pre-requisite - A basic understanding of clicker or marker signal training and the following behaviors either on verbal or hand signal cue, using a target or lured:
➤ Value for front, rear, and all feet on equipment
➤ Lateral (sideways) walking (beginner level)
➤ Basic positional changes (sit, down and stand)
➤ Chin hold or nose touch hold
Although not required, students may benefit by having previously taken Foundation Fitness. Students who have not taken Foundation Fitness are very welcome in this class.
Possible Equipment – Substitutions will be recommended if you don't have the equipment used in the videos - just ask if you need additional substitutions after watching the videos.
FitPAWS is offering a 30% education discount. Klimb is offering a discount as well. Information to get the discount will be available upon enrolling.
▸
1-2 KLIMBS, 1 aerobic step bench, or another platform, such as a two-on-two-off board, agility table, etc. For giant breeds, you may need to use 2 KLIMBs. Your dog should be able to neutrally stand comfortably on the platform and be able to lie down with his entire body on the platform (including the front feet and excluding his tail). 
▸
2 FitPAWS balance pad(s) or equivalent foam pads
▸
2-4 FitPAWS circular product holders – formerly known as donut holders – or taped pool noodles, taped foam piping, or rolled up beach towels that form a ring shape.
▸
Optional: 1 FitPAWS ramp (you may substitute a balance pad, small disc, or medium to large rubber feed bucket) – this is listed as optional as you will likely have a balance pad to substitute
▸
Optional: FitPAWS balance pads or cut up yoga mat pieces to use as foot targets if needed or to prevent equipment from sliding
▸
Optional: 2-4 beach towels or large bath towels
▸
Optional: 2 cones or 2 tall rainboots (you may also use the sides of an agility jump)
There are many possible equipment options and you may use something you have lying around your house.
Training Methods - A variety of training methods can be used to obtain the proper movement or position - shaping, luring, targeting, and It's Yer Choice. These will be discussed in the video tutorials, in the forum and through video review but every tiny step will not be demonstrated in the instructional video. You will need to break each behavior down into small pieces so that your dog understands what is being asked.
Disclaimer: Some information in this class may overlap or appear in other classes due to the foundation needed for many behaviors, tricks and fitness exercises. In addition, there are overlapping skills needed for many different performance activities so you may see exercises that are the same but packaged up differently toward a slightly different goal.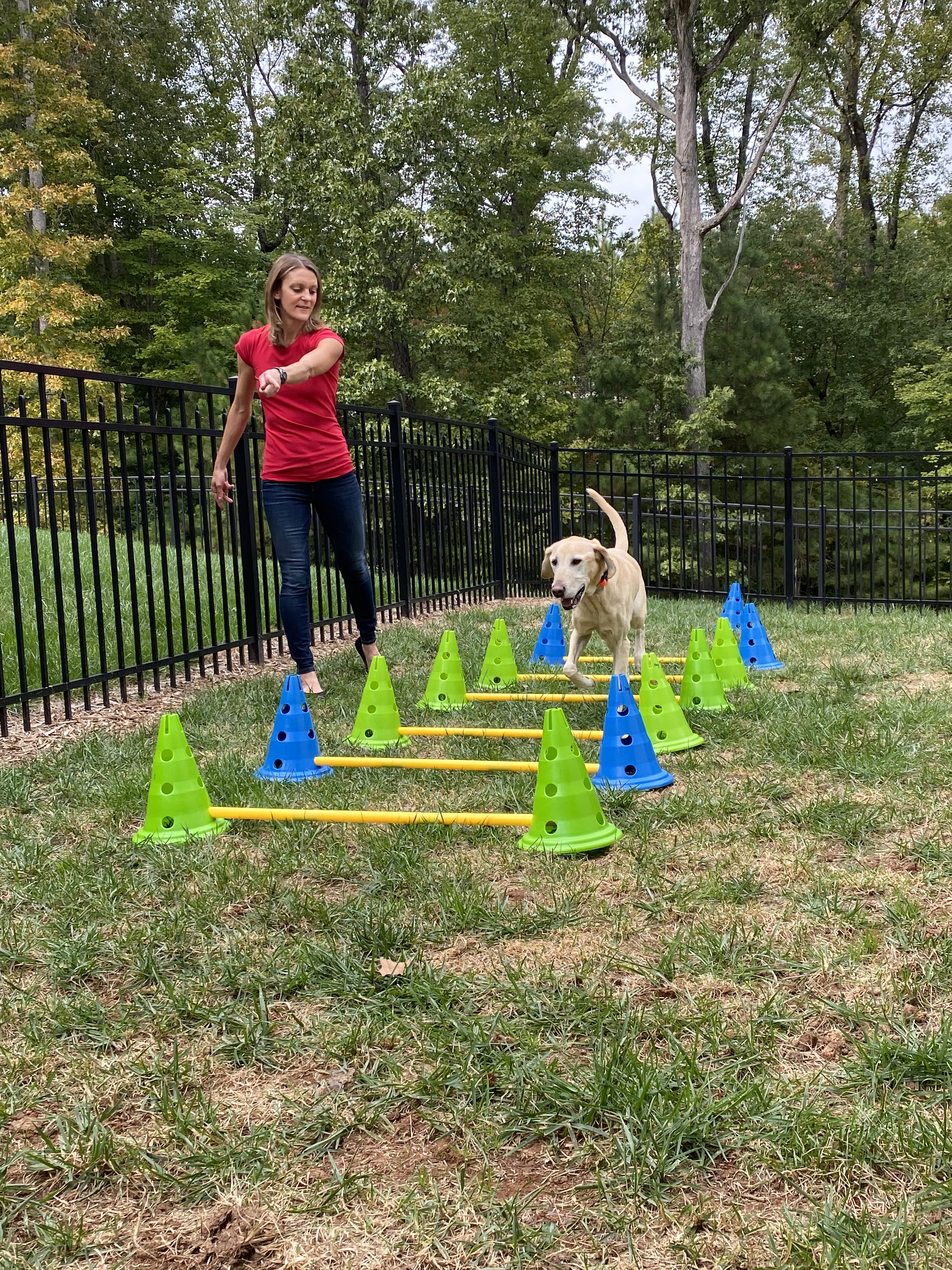 Jasey Day, CCFT
Certified Canine Fitness Trainer
Jasey teaches weekly group classes at a local vet clinic in Raleigh, NC. She also owns and runs Day Fit Dogs, which provides canine fitness private lessons, blog writing, and seminar services.
She is a member of the Bobbie Lyons K9FITteam - a team of compassionate canine fitness instructors who actively teach others and continually expand their own knowledge. 
Since 2004, Jasey has taught a variety of canine workshops, seminars, and classes on the following: Fitness, Swimming, Puppy, Canine Good Citizen/Family Pet, Advanced Family Pet, Rally, and Agility. In addition, Jasey has earned over 60 titles across four dogs in Dock Diving, Agility, Rally, CGC and Trick Dog. Jasey's Labrador Retriever, Turbojet, spends his time hiking, training, teaching classes, dock diving, agility, and herding.
Pricing & Participation Options...
[ Space is Limited to 10 Workers ]
AUDITOR
$129
One-time fee, USD
---
Ask questions in the discussion threads
View video feedback recordings in the working students threads
Earn certificate of completion
WORKER
$179
One-time fee, USD
---
Ask questions in the discussion threads
Submit videos for feedback
Earn certificate of completion
This course is not open for enrollment at this time.
Questions about the course?
Email the instructor Jasey Day at