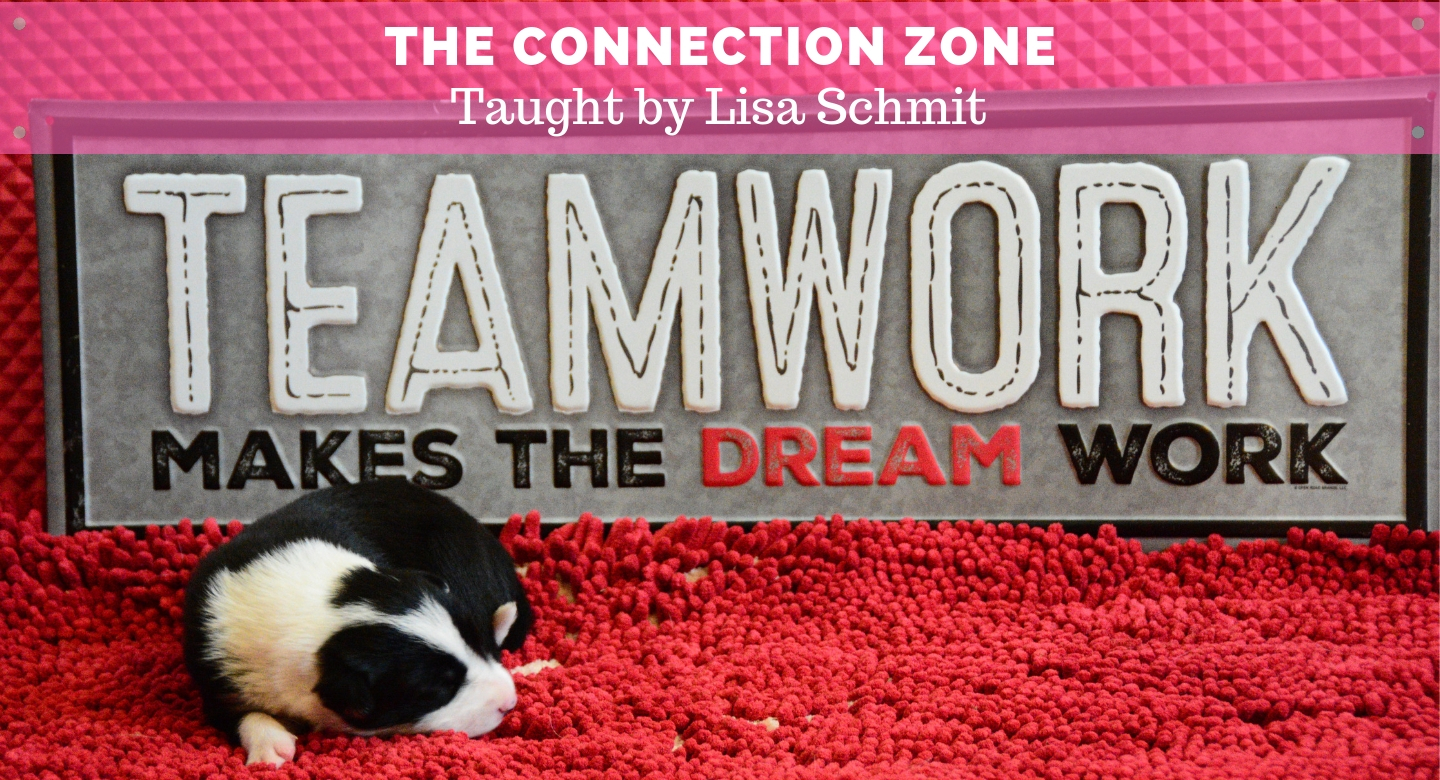 THE CONNECTION ZONE
Are you and your dog in the Connection Zone when working or does your dog zone out?
Do you have a stressed or high dog?
Does your dog leave you to go sniff or visit ring crew?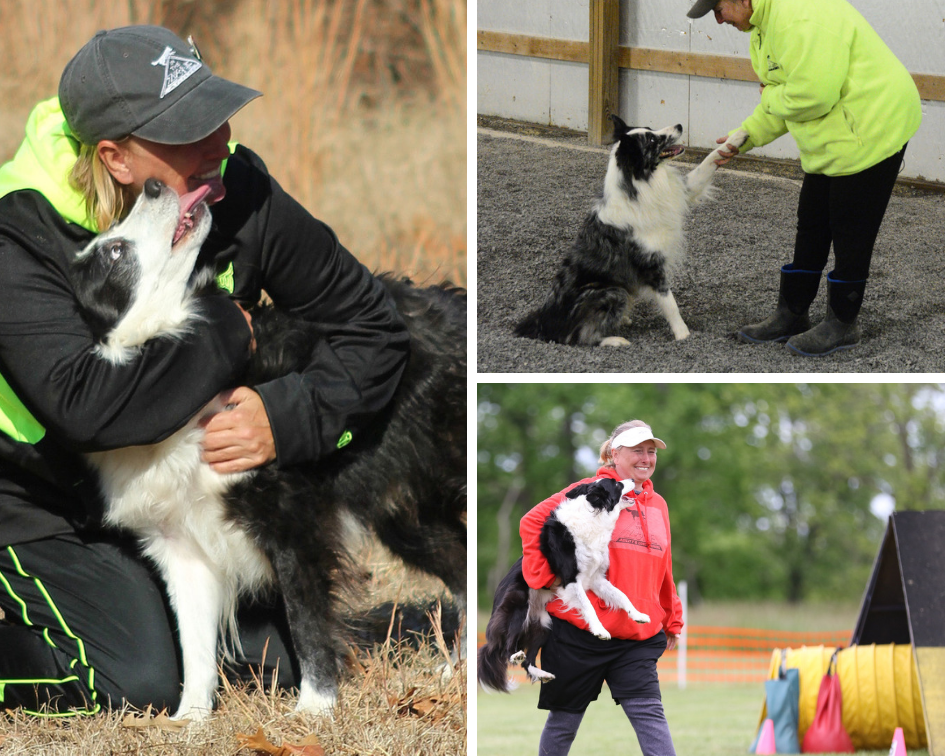 Regardless of what sport you compete in, you want to be connected as a team before you begin. There are many connection exercises that we can do to create a THINKING CONNECTED dog. I do not want a crazy high dog or a slow, motivationally challenged dog. I have had both! In this class we will go over connection games to do with your dog to keep your dog in the Connection Zone inside and outside the ring. Arguably what happens outside the ring can be as important as what happens inside the ring. We will go over pre-run routines as well as what to do what things don't go as planned in practice as well as in competition.
The more tools you have in your box the better!!
This class is for all sports teams not just agility!! This class is great for puppies and dogs of all ages! These games and exercises can be done in a small area so great to do over the winter!
WHY TAKE THIS CLASS:
Learn exercises and games that will help you and your stay dog stay in the Connection Zone
Give you tools to help you reconnect with your dog when your dog disconnects from you
I am hoping this class will be highly interactive with videos and discussion between all students.

EQUIPMENT:
We will be using food rewards, toys and elevated foot targets to teach the connection games. We will also use various agility equipment (or whatever sport you play in) to work connection during practice in your chosen sport.I will post videos performing connection exercises during agility practice.

Here is a video of Lisa running her deaf dog staying connected and with good distance:
Disclaimer: The information in this class may over lap or appear in other classes due to the foundation needed for many behaviors, tricks and fitness exercises.

Your Instructor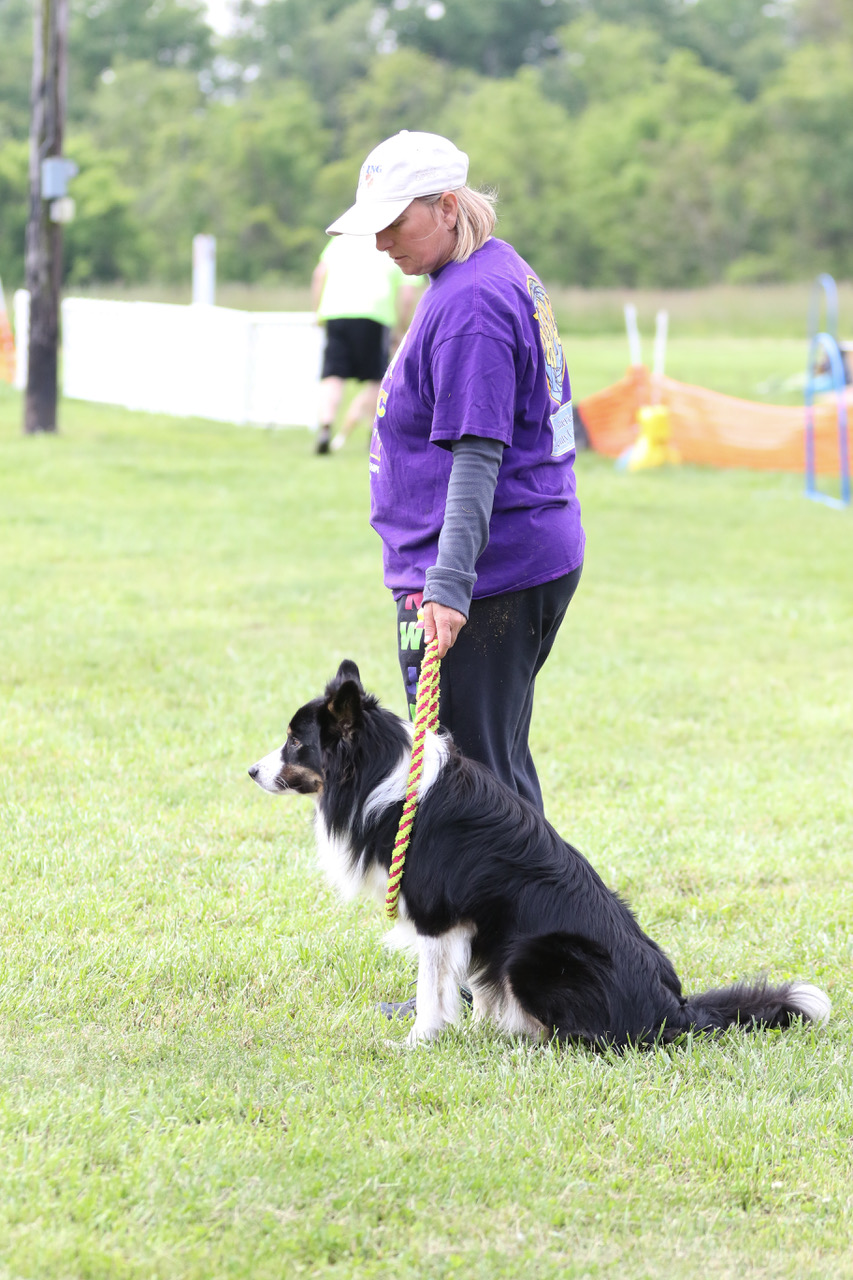 Lisa Schmit, PhD, CCFT, CPMP is one of the most accomplished handlers in NADAC. Her consistent, clear positive approach to dog training is evidence with her continual success with multiple dogs! While she primarily competes in NADAC, her training and handling philosophy translates to all venues. Path work is paramount in all venues. Being able to draw efficient lines, speedy independent obstacles, and providing clear and consistent cues help teams compete successfully in all venues from Teacup to USDAA.
Lisa has come home from the NADAC Championships with 10 trophies with 5 different dogs. Nine of her dogs have over 150 NATCHES, over 35 Speed Stars. Eight of her dogs have 140 Bonus Runs (requires big distance skills). Her dogs are consistently in the Top 10 every year and in most categories in the NADAC Hall of Fame. In September 2018, Tandem earned the coveted Purple MODSQUAD award--Master of Distance and Speed which requires high level distance handling and speed. He is the 15th dog in the world to earn this award. JP7 achieved his Silver MODSQUAD in Dec 2018. Revolution only need one more bonus to achieve this award also. At the 2018 NADAC Championships, Tandem was the NADAC World Large Vet Dog Champion and NADAC Large Vet Dog Champion. JP7 was NADAC World Starter Stakes Reserve Champion and NADAC Reserve Champion Starter Stakes (high level distance class) and Distance Bonus Cup Champion. Revolution brought home 1stPlace Team Trophy. Here is a link to 2018 Champs Highlights Video: https://www.youtube.com/watch?v=VNRR3D9foggAt the 2017 NADAC Championships, Revolution was Reserve Champion, JP7 achieved 4 sashes in Starter Stakes, and Tandem and Synergy also made it to finals. Amazingly, in 2018 and 2017, her four dogs earned 26 NATCHES and 10 Speed Stars each year! Talk about being consistent at a high levelJIn 2015, Tandem won the highest number of Bonus Points Trophy in Starter Stakes. From 2008-20011, Moxie and Lisa won their class at champs! In 2007, Expedite won the Skilled Veteran Class and in 2006 Haley (Brittany) won Double Digit Class. To view a complete list of accomplishments, videos of runs and photos please visit http://inthezoneagility.com. To view some bonus' runs http://inthezoneagility.homestead.com/BONUS-RUNS.html

Lisa is a NADAC Certified Clinician, Certified Pet Massage Practitioner, FITPAWS Master Trainer, Certified Canine Fitness Trainer and a member of Bobbie Lyon's K9 Fit Team. She gives agility, conditioning and massage seminars across the continent. She teaches online classes through in thezoneagility.com as well as through Bobbie Lyons Canine Campus -https://www.bobbielyonscaninecampus.com. Lisa hosts over 15 NADAC Trials yearly as In The Zone Agility and In The Zone Agility of Illinois. Lisa currently has five Border Collies including a young dog aging from 18 months to 12 years old and deaf. Running a deaf dog has brought a new element of training which has made her a much better handler and trainer. She has owned, trained and completed with 12 dogs which have ranged from soft to hard and slow to fast and novice to multiple championships. This allows Lisa to bring real life experiences into her training that includes good foundation training, skill training, motivation and consistent, clear handling all in a fun positive way.
Her goal is to have amazing relationships with her dogs and for them to run fast and confidently well into their double-digit years. The core of her training philosophy is based on solid foundation skills and consistent handling to motivate her dogs in a fun and positive way. She uses a positive reward-based system of training and errs on the side of rewarding too often than not enough. She believes it is her responsibility to maintain cues in a clear, crisp, calm and confident manner. This gives her dogs confidence to trust her cues which builds relationships, speed, drive and distance. As a skill trainer, she focuses on developing, refining and rewarding obstacle performance and handling. She believes groundwork and foundation skills are the building blocks to success. She trains in short fun sequences so she can train various handling options, push for distance and reward often. She trains skills and obstacles so that her dogs are confident in their ability to understand her cues and to perform obstacles efficiently, at speed and at a distance.
Lisa grew up in the horse world training and showing Quarter Horses as well as dabbling on the racetrack. She also played volleyball and softball. The skills learned training and competing in other sports have transferred to dog training. She currently has and runs five Border Collies including a young dog debuting this year to a 12 year old deaf dog. Running a deaf dog has brought a new element of training which has made her a much better handler and trainer. She has owned, trained and completed with 12 dogs (including a lab, a Brittany and an Australian Shepherd) which have ranged from soft to hard and slow to fast and novice to multiple championships. This brings real life experiences into her training that includes good foundation training, skill training, motivation and consistent, clear handling all in a fun positive way.

Lisa is a consummate learner. She continues to take classes and attend seminars whenever possible. She continues to evaluate her training and adjusts accordingly. She puts on many seminars across the continent and in doing so, meets lots of different teams with different issues. This has taught her to be open minded, to think on her feet and outside the box! She loves to be challenged and to help people succeed.
Lisa's info: [email protected]
www.inthezoneagility.comwww.bobbielyonscaninecampus.com
www.youtube.com/c/lisaschmitinthezonewww.facebook.com/inthezoneagility
www.facebook.com/groups/IntheZoneAgility/ Newsletter: http://eepurl.com/dNZpcM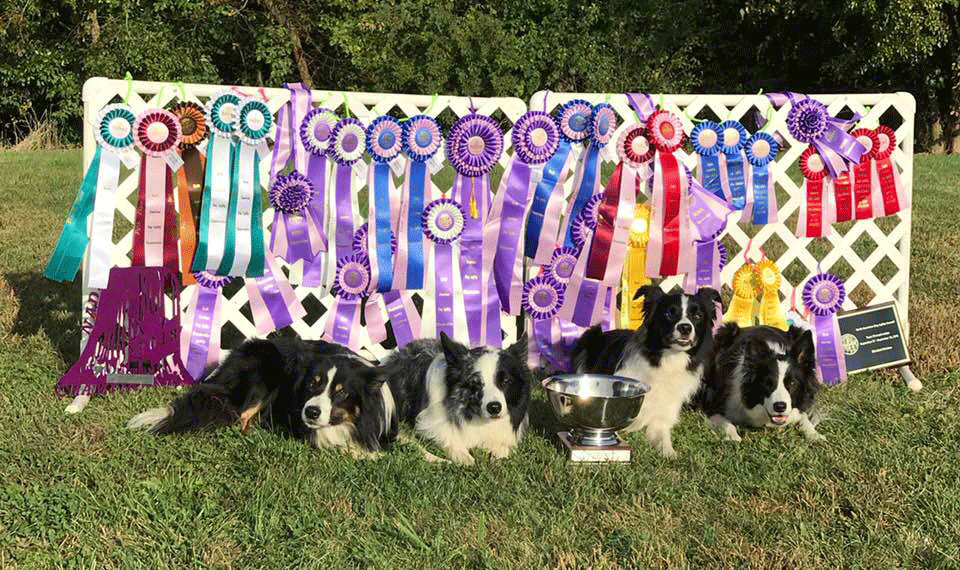 To learn more about Lisa's training philosophy click HERE

Frequently Asked Questions
When does the class start and finish?
Read each class description to find out when class starts. Some start right after you enroll and some will start after the enrollment period ends. New material will be posted every 7 days after class begins to allow you time to process the information and start the training process. Video review and commenting will be open for 90 days from the start of class allowing you plenty of time to work through the material, take and edit video and formulate your questions as well as allow the instructor time to review and give feedback. We have built in extra time after all class materials are available so that students that are behind or students still working on behaviors can ask questions and post video for review and comment.
How long do I have access to the class?
For one year from the start of class. The school reserves the right to modify, update or remove this class at any time.
What is your refund policy for current classes?
You will receive a refund if you request your cancellation at least 1 day before the class begins. There are no refunds after class has started.
What if I am unhappy with the class?
We make every effort to offer valuable information at an affordable rate. We suggest you read the class description carefully before making your purchase to determine if the class is right for you. Because there are many levels of trainers, there will be material that is review for some and new to others. For those that are review, it will give you an opportunity to look at what you have trained and refine the behaviors as needed. If you are unsatisfied with your purchase, please contact admin at
[email protected]
Can instructors diagnose or treat injury?
No - instructors and assistant instructors cannot diagnose or treat injury. They can design fitness plans for healthy dogs or dogs that have a written release from veterinary care and/or veterinary rehabilitation care.