<<< This course is not open for enrollment at this time >>>
Have You Always Wanted to Learn 
How to Train 4 Feet on Paw Pods?
Increase Your Dog's Limb Awareness By Teaching Your Dog How To Use Pods for Strength and Limb Awareness!
This class was designed to teach you and your dog how to position their feet on paw pods and how to use paw pods for strength and balance training.    This is a great time to teach your dog something new or to add new uses to your paw pods.  
Using paw pods for fitness is a ton of fun!  Join me today for this fun and beneficial class to help keep your dog mentally and physically challenged. 
Each training exercise in this class should only take you a few minutes of training each day.
Why take this class?
🌀 Teach your dog to use 2 and 4 pods
🌀 Understand the foundation movements that will help improve communication with your dog 
🌀 Learn that paw pods are not just for standing
🌀 Improve your dogs proprioception and balance 
🌀 Teach your dog advanced paw placement
🌀 Improve the foundation work you have already trained
Who should participate?
EVERY DOG!
There will be discussion threads to ask questions and post video for review.  Everyone is a participant. Each class is broken into sections with one or more lessons within each section. You can submit up to 3 minutes of video per section for instructional review.
Class will start on the 15th of the enrolling month. Each section will post to the site every 7 days. The course is open for video submission, questions, review and comments for 90 days after the first day of class - access to material lasts for 1 yr.
Curriculum:
Creating a Solid Foundation
Introducing the Pods
Weight Shifting
Wide and Narrow
Position Changes
Changing Pod Positions
Lateral Work
Stretching on Pods
Class consists of 8 lessons with multiple exercises per lesson.
Sample Exercise
Stand Down Stand on Paw Pods
What level are the exercises? 
This course will have beginner to advanced exercises.
Suggested Pre-requisite - a basic understanding of clicker training
Necessary Equipment – 
🌀 Paw Pods
Training Methods - A variety of training methods can be used to obtain the proper movement or position - shaping, luring, targeting, and It's Yer Choice. These methods will be discussed in the video tutorials, in the forum and through video review.
Disclaimer: Some information in this class may overlap or appear in other classes due to the foundation needed for many behaviors, tricks and fitness exercises. In addition, there are overlapping skills needed for many different performance activities so you may see exercises that are the same but packaged up differently toward a slightly different goal.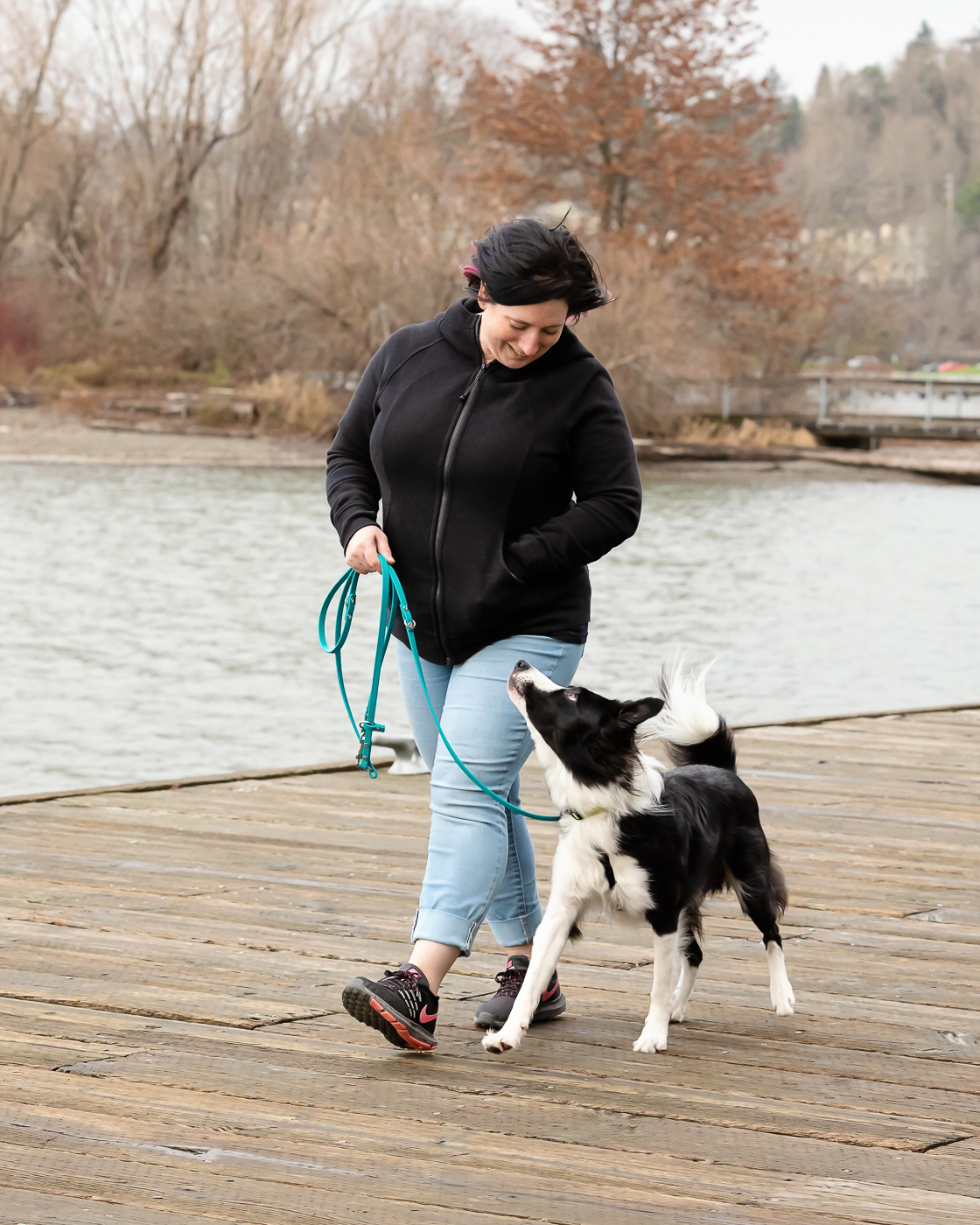 Bobbie Lyons, CCFT, KPA CTP
Certified Canine Fitness Trainer
Karen Pryor Certified Training Partner
Bobbie owns and operates Pawsitive Performance which offers dog training, fitness training and trick training around the globe. She was part of the TEAM that contributed knowledge and experience to design the CCFT II Live Lab and is a course "Instructor" for the program. Bobbie also completed the certification program for Canine Fitness through the Companion Animal Sciences Institute and she is a Certified Training Partner with the Karen Pryor Academy.
Bobbie has 4 awesome dogs that train a variety of skills for agility, fitness training, trick training, tugging and dock diving. Bobbie enjoys the training process and strives to comuinicate in the best way she can to help her dogs and clients dogs understand the task at hand. She starts every training sessions with this question "how can I set the dog up for success and give the dog the best information to successfully complete the behavior".
To learn more about Bobbie visit:
This course is not open for enrollment at this time.
Frequently Asked Questions


When does the class start and finish?
Class officially starts the day after the enrollment period ends. New material will be posted every 7 days after class begins to allow you time to process the information and start the training process. Video review and commenting will be open for 90 days from the start of class allowing you plenty of time to work through the material, take and edit video and formulate your questions as well as allow the instructor time to review and give feedback. We have built-in extra time after all class materials are available so that students that are behind or students still working on behaviors can ask questions and post videos​ for review and comment.
How long do I have access to the class?
For one year from the start of class. The school reserves the right to modify, update or remove this class at any time.
What is your refund policy for current classes?
You will receive a refund if you request your cancellation at least 1 day before the class begins. There are no refunds after class has started.
What if I am unhappy with the class?
We make every effort to offer valuable information at an affordable rate. We suggest you read the class description carefully before making your purchase to determine if the class is right for you. Because there are many levels of trainers, there will be material that is review for some and new to others. For those that are review, it will give you an opportunity to look at what you have trained and refine the behaviors as needed. If you are unsatisfied with your purchase, please contact admin at [email protected]
Can instructors diagnose or treat injury?
No - instructors and assistant instructors cannot diagnose or treat injury. They can design fitness plans for healthy dogs or dogs that have a written release from veterinary care and/or veterinary rehabilitation care.