Enrollment Begins 10am Pacific on: January 1st, 2022 
and Ends: January 15, 2022 @ Midnight
Shifting More Weight to the Rear is KEY to Improving Your Dog's Functional Rear End Awareness
Learn How to Teach Your Dog to Access Power From the Rear!
This class was designed to teach you and your dog all about functional rear end awareness and "mystify" you with a new thought process. Open your mind to the possibilities and you will likely achieve true functional rear end awareness with your dog.
Who should participate?
→ Dogs that knock bars in agility
→ Young dogs that will eventually perform in dog sports (start them off right!)
→ Dogs that lack the ability to collect
→ Dogs that need to increase speed
→ Handlers that want to understand how to achieve functional rear end power
→ Handlers that are open minded to new thought processes
→ Dogs that need more lift off the dock for dock diving
→ Dogs that lack a good swimmers turn on the flyball box.
→ Dogs that need more lift off the ground for disc dog tricks
Why take this class?
➤ Teach your dog to use 4 paw drive (not 2 paw drive)
➤ Understand how the many misconceptions of rear end awareness teach your dog to load more weight to the front 
➤
Be introduced to a time line for teaching certain behaviors that improve functional rear end awareness
➤ Teach your dog how to access power from the rear
➤ Help to keep your dog injury free by activating more muscles in your dogs movement
➤ Understand what YOU can do to help your dog
Advantages of the Online Class
✔️ Convenience of online learning
✔️ More time to learn the material than the traditional in person class format
✔️ Work at your own pace in the convenience of your home
✔️ Access to the material for at least 1 yr.
Dog's typically distribute 60% of their weight to the front limbs and 40% to the rear limbs. Teaching a dog to shift more weight to the rear is key to improving rear end awareness.
Bobbie defines functional rear end awareness as the dog's ability to shift weight into their rear feet to access muscle engagement to power in all directions. If the dog does not have weight distributed to their rear feet, they are relying heavily on their front limbs.
In the top photo, when the dog's nose is lower than spine height, most weight is shifted to the front. 
In the bottom photo, the dog's nose is above spine height which helps the dog shift more weight to the rear. As the dog steps off the bench and catches their weight in their rear limbs, even more weight is shifted to the rear feet.
It is important to understand to properly improve your dog's rear end awareness, their nose needs to be above spine height so that their weight is distributed to their rear feet and they are able to access muscular strength in their rear limbs.
What's Included?


Discussion Threads
There will be discussion threads to ask questions.
Video Review
Working students can submit up to 3 minutes of video per lesson for instructional review. NEW for 2021 - Voiceover video review is done by screen-casting for a more personalized experience. Screen-casting is audio-visual feedback (the next best thing to a 1:1 conversation)
Start Date
Class will begin right after you enroll. This class is always open so some students will be ahead of you and some will be behind you.


Format
Each class is broken into lessons, with one or more exercises within each lesson.


Timelines
The class is open for video submission, questions, review and comments for 90 days allowing you plenty of time to work through the material, take and edit video and formulate your questions as well as allow the instructor time to review and give feedback.
- access to material lasts for 1 yr.
The school reserves the right to modify, update or remove this class at any time.
Curriculum:
Lesson 1:
✔️ Rear foot targeting (RFT) as a forward motion
✔️ Understand weight shifting
✔️ Decrease forward weight shift with specific food delivery methods
Lesson 2:
✔️ RFT progressed
✔️ Exercise that focus on hip flexors and abdominal muscles
Lesson 3:
✔️ RFT progressed
✔️ Balance
✔️ Back up with focus
Lesson 4:
✔️ Shifting weight to the rear while performing several different exercise
Lesson 5:
✔️ Shifting weight to the rear while performing several different exercise


Class consists of 5 lessons with multiple exercises per lesson.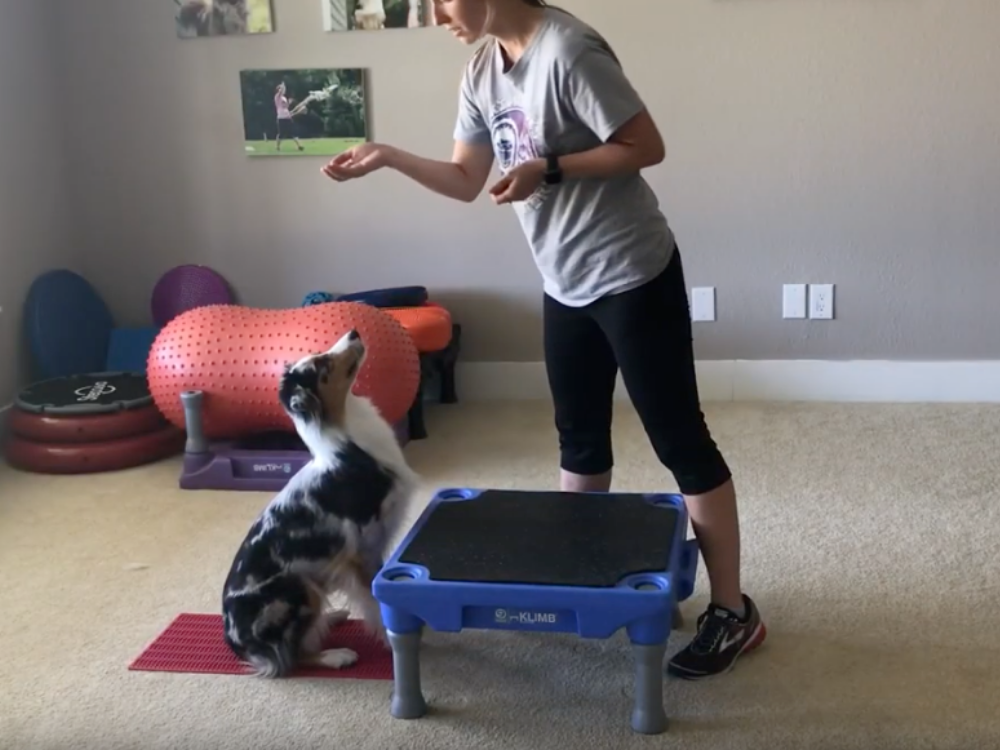 Testimonial
"I wish everyone taught rear-end awareness like you do!! It's amazing to see the difference and now I can totally understand how backing up to an object and backing up to Klimbs/a wall/handstands is totally opposite of getting that weight shift into the rear. I hope everyone who does sports takes this class cause it's been SOOO valuable to us.
I really can't thank you enough for all of this. It's an incredible course and has changed so much for us!!!"
~ HC - North Carolina
What level are the exercises? 
This course will have beginner to advanced exercise with most falling in the beginner to intermediate level. This class will focus specifically on the exercises taught and I will answer questions about the foundation needed but will not be teaching all the foundation movements (see suggested pre-requisite).
This class is recommended for young dogs but some exercises will need to wait until strength and coordination are achieved.
Suggested Pre-requisite - a basic understanding of clicker training and target training is helpful, but not required:
▸ Nose Touch and/or Nose Touch Hold
▸ Chin Rest
Possible Equipment –substitution will be recommended if you don't have equipment used in the videos. FitPAWS is offering a 30% education discount. Klimb is offering a discount as well. Information to get the discount will be available upon enrolling.
▸ Mat - (bath mat, K9Fitbed, yoga mat or something similar - should NOT be a puffy bed)
▸ 2 small balance products that your dog can stand on in a balanced position (Balance discs, K9Fitbones, Ramp, rubber feed pans or something similar)
▸ Object about your dogs chest height (Klimb, agility table, stool, dining room chair or something similar)
▸ Poles and cones or something similar (broom handles, jumps, or something similar)
There are many possible equipment options or you may use something you have laying around your house.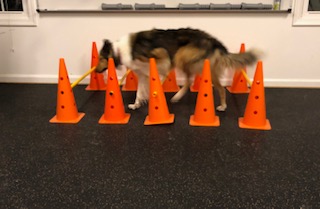 Testimonial
"This is my dog Vera, a border collie/collie cross, who has a very long back and weak hind end. This class has had a world of difference for her already and I am excited to see where she is after working on year exercises for a longer period of time. I loved the set up of the class with new videos coming out every couple of days, giving time to work on each, but not dwelling on one thing. If you would like a different picture of Vera, just let me know. 
Thank you for all you provide to just regular folks like myself who have a passion for working with their dogs."
~ Allison Howard
Training Methods - A variety of training methods can be used to obtain the proper movement or position - shaping, luring, targeting, and It's Yer Choice. These methods will be discussed in the video tutorials, in the forum and through video review.
Disclaimer: Some information in this class may overlap or appear in other classes due to the foundation needed for many behaviors, tricks and fitness exercises. In addition, there are overlapping skills needed for many different performance activities so you may see exercises that are the same but packaged up differently toward a slightly different goal.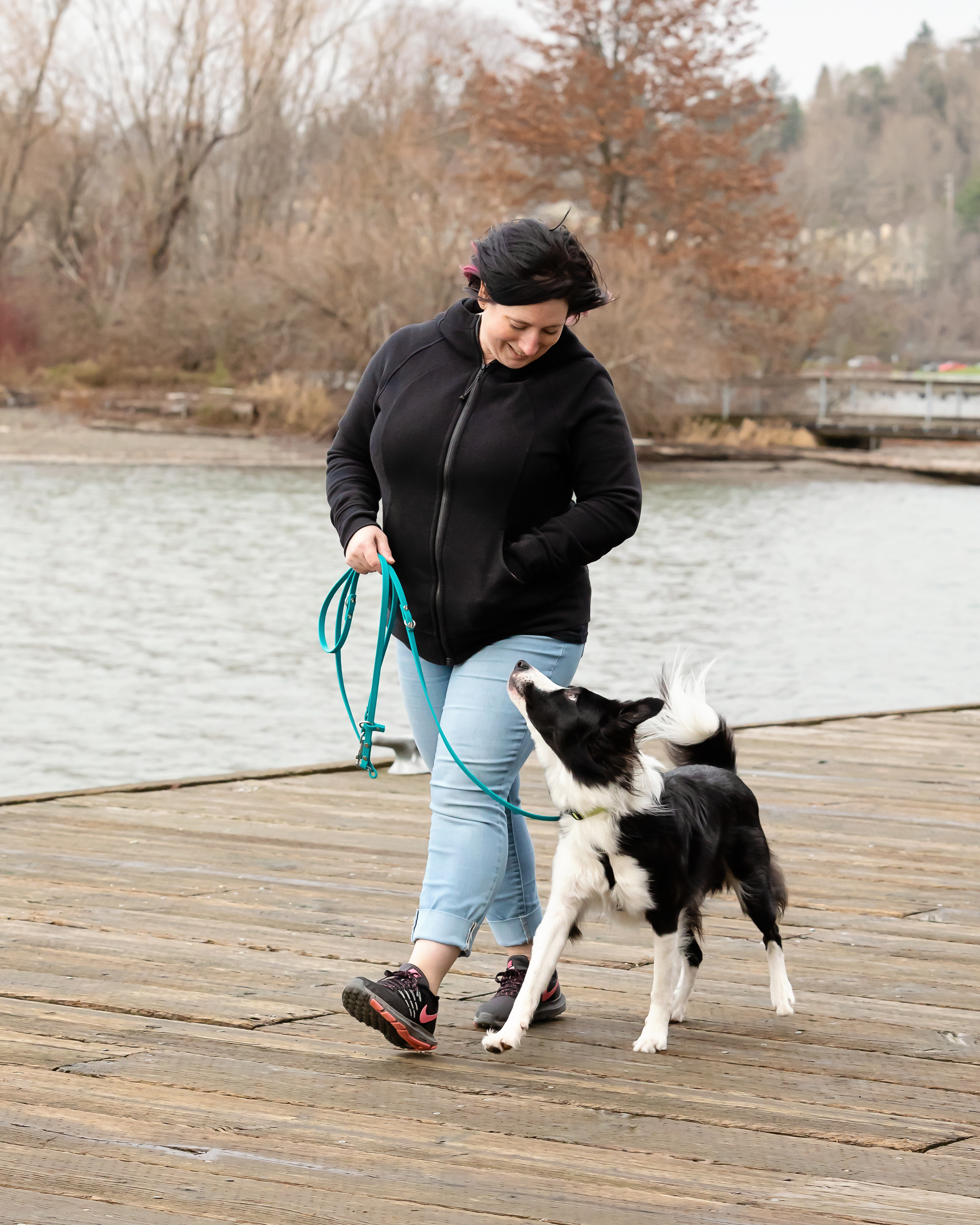 Bobbie Lyons, CCFT, KPA CTP
Certified Canine Fitness Trainer
Karen Pryor Academy Faculty
CGC Evaluator (trick titles)
Bobbie owns and operates Pawsitive Performance which offers dog training, fitness training and trick training around the globe. She was part of the TEAM that contributed knowledge and experience to design the CCFT II Live Lab and is a course "Instructor" for the program. Bobbie also completed the certification program for Canine Fitness through the Companion Animal Sciences Institute and she is a Certified Training Partner with the Karen Pryor Academy.
Bobbie has 4 awesome dogs that train a variety of skills for agility, fitness training, trick training, tugging and dock diving. Bobbie enjoys the training process and strives to comuinicate in the best way she can to help her dogs and clients dogs understand the task at hand. She starts every training sessions with this question "how can I set the dog up for success and give the dog the best information to successfully complete the behavior".
To learn more about Bobbie visit:
Pricing & Participation Options...
[ Space is Limited to 10 Workers ]
AUDITOR
$129
One-time fee, USD
---
Ask questions in the discussion threads
View video feedback recordings in the working students threads
Earn certificate of completion
WORKER
$179
One-time fee, USD
---
Ask questions in the discussion threads
Submit videos for feedback
Earn certificate of completion
This course is not open for enrollment at this time.
Questions about the course?
Email the instructor Bobbie Lyons at