*As of January 2023 - All Prices Include Tax Where Applicable*
SELF-PACED CLASS
As soon as you sign up you will have access to the full course!


Analyze and Handle Courses With LINES!

Do you have a hard time with classes with Lines ie Chances, Gamblers, Jackpot or FAST?
Do you get stuck on the line?
Do you have a hard time analyzing these courses?
Where to lead out if at all?  
Are you ready for more distance challenges?

In this class, a course with distance challenges will be posted.  We will go over course analysis and various handling options to not get stuck behind the line!! This is a great class to have training and handling discussions about the skills needed for each course.

Who should participate?
Any healthy dog over the age of 10 months old.
Why take this class?
➤ Learn how to analyze classes with lines
➤ Learn how to handle distance challenges
➤ Analyze cues to handle your dog at a distance
Advantages of the Online Class
✔️ Convenience of online learning
✔️ More time to learn the material than the traditional in person class format
✔️ Work at your own pace in the convenience of your home
✔️ Access to the material for for as long as BLCC exists.
What's Included?


SELF-PACED CLASS
As soon as you sign up, you have access to all the lessons.
This way, you can pick and choose which exercises to work on.


Start Date
Class will begin right after you enroll. This class is always open so some students will be ahead of you and some will be behind you.


Format
Each class is broken into lessons, with one or more exercises within each lesson - access to material for as long as BLCC exists


The school reserves the right to modify, update or remove this class at any time.

Curriculum:
Course Analysis
Handling Options
Where to Lead Out
What Skills to Work On
NOTE: This is a repeat of the previous Line Dancing Class
What level are the sequences?
Open to all dogs over 10 months old that can perform hoops or jumps and tunnels. This is a good place for young dogs just learning these skills as well as more advanced dogs.
Suggested Pre-requisite - NONE
Minimum Equipment –
▸ 1 tunnel, 10 hoops or jumps. 
Other equipment will be used such as contacts but substitutions can be made. 
Minimum Space is 60x60
Training Methods - 
A variety of positive training methods can be used to achieve the correct behavior. The use of Targeting, Luring and Rewarding with toys and treats will be used. These methods will be discussed and broken down in the video tutorials, in the forum and through video review.
Disclaimer: Some information in this class may overlap or appear in other classes due to the foundation needed for many behaviors, tricks and fitness exercises. In addition, there are overlapping skills needed for many different performance activities so you may see exercises that are the same but packaged up differently toward a slightly different goal.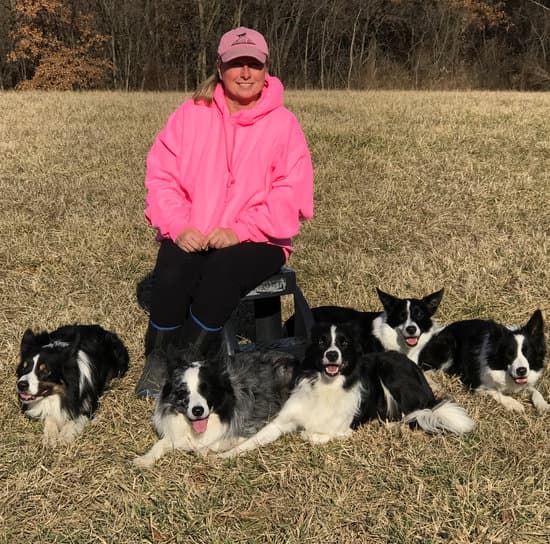 Lisa Schmit, PhD, CCFT, CPMP
Certified Canine Fitness Trainer
Certified Pet Massage Practitioner
Bobbie Lyons K9FITteam Member
Lisa is the owner of In The Zone Agility LLC and is one of the most accomplished handlers in NADAC. Her consistent, clear positive approach to dog training is evidence with her continual success with multiple dogs! She offers agility, conditioning and massage seminars across the continent and puts on about 12 NADAC trails a year.
Lisa has come home from the NADAC Championships with 10 trophies with 5 different dogs. She has finished in Overall Top 3 at NADAC Champs 22 times with 9 different dogs including her Brittany and Aussie. Tandem, JP7 and Revolution earned the coveted Purple MODSQUAD award--Master of Distance and Speed which requires high level distance handling and speed. Less than 25 dogs in the world have this award and Lisa has three of them. JP7 and Tandem earned the Distance Cup Award. Nine of her dogs have over 175 NATCHES, over 45 Speed Stars. Eight of her dogs have almost 200 Bonus Runs (requires big distance skills). Her dogs are consistently in the Top 10 every year and in most categories in the NADAC Hall of Fame.
To learn more about Lisa visit: www.inthezoneagility.com
Questions about the course? 
Email the instructor Lisa Schmit at