Enrollment Begins 10am Pacific on: January 1st, 2023 
and Ends: January 15, 2023 @ Midnight
[ first workout posted January 15th ]

Learn Fun Ways to Keep Your Senior Dog Moving While Maintaining Healthy and Strong Muscles, Flexibility and Body Awareness, Plus Enhance Dynamic Balance with 12 Months of Specially Designed Workouts
Are you struggling to find appropriate workouts for your senior dog?
Senior Dogs need mental and physical exercises too!!!!
To have a good quality of life, dogs need to move!


______________________
Each month you will get:
FULL BODY WORKOUT GEARED TOWARDS SENIORS
MOVING EXERCISE TO KEEP OUR SENIORS MOVING & GROOVING
Downloadable document explaining the workouts
NEW for 2023: QUICKIE EXERCISES. Each month you will get a quick focused exercise to do between workouts or when you don't have time for a full workout!!
**BONUS: As soon as you sign up, you will have access to Lisa's MASSAGE CLASS!!


As dogs age, they tend to gain weight, become less active, sleep more and lose mental focus.  The less they move, the more muscles atrophy, balance diminishes and the less they move. In order to keep senior dog at the best quality of life we need to keep senior dogs moving. Fitness is essential for keeping our senior dogs mobile and active. A structured exercise program benefits senior dogs by keeping muscles toned and flexible while maintaining balance, stability and function.   Conditioning the senior dog also helps to mentally exercises the mind of the dog and also enhances the relationship between you and your dog. 
Senior dogs cannot do what they once did as young dogs so we must be mindful to create an exercise plan geared toward their physical and mental ability.  This class will teach you how to do safe, fun exercises for senior dogs that will help improve body awareness, flexibility, balance, front, hind-end and core strength.  It also provides mental stimulation to keep our senior dogs mind working well too!!  

As dog's age, they want to move less. But we need to keep them moving! Moving is vital for life! It gets the heart beating and the blood flowing which helps to nourish cells throughout the body. Blood flow helps carry away waste products and helps neutralize toxins! Moving also supports brain health. So moving is not only great for muscles (including the heart) it is great for the WHOLE BODY. It helps improve functionality and performance in daily life activities as well as sport activities. Being able to control their body and balance while in motion is important for all dogs. So let's keep our senior dogs moving so their body systems will function better.
I am devoted to improving the fitness and well-being of senior dogs!  This monthly class allows you to exercise your dog anytime, anywhere in the comfort of your own home using easy access online workouts.
Who Should Participate?
→ This class is geared towards the senior dog, but any age dog is welcome in this class! 
Why Take This Class?
➤ Learn Fun, Safe Exercises for your Senior Dog
➤ Lectures on Specific Issues Related to Senior Dogs
➤ Provide Mental Stimulation
➤ Enhance Human Dog Relationship 
Advantages of the Online Class
✔️ Convenience of online learning
✔️ More time to learn the material than the traditional in person class format
✔️ Work at your own pace in the convenience of your home
Stars of the class will be  Synergy- 14 years old  and deaf,  Tandem 11 years old (had Addisons disease) and JP7 and Revolution both 8 years old (and Synergy's kids).  Some months, there will be videos of other senior dogs I have worked with included Brock- my sister's 16 year old Beagle as well as some old conditioning videos of my 14 and 15 year old dogs.  
What's Included?
Various lectures on Senior dog care, lifestyle changes and other senior dog related information 
Lessons on how to assess your senior dog
Each month you will get:
• One "complete" workout plan
• One moving exercise
• One Quickie exercise
• Guidelines for reps and sets
• Equipment used and possible substitutions
• Proper position and posture
• Training tips

*****BONUS: Various massage lessons throughout the year 


Discussion Threads
There will be discussion threads to ask questions.
Video Review
Working students can submit up to 5 minutes of video per month for instructional review. Video review is done by screen-casting for a more personalized experience. Screen-casting is audio-visual feedback (the next best thing to a 1:1 conversation)
Start Date
Class starts as soon as you enroll. First workout will be posted on January 15th.


Format
Each class is broken into lessons, with one or more lecture within each lesson. Each workout will be posted on the 15th of each month.


Timelines
Class lessons/workouts will be accessible until December 31, 2022.
As well as open for video submission, questions, review and comments.
The school reserves the right to modify, update or remove this class at any time.

Class consists of 12 workouts, with 1 workout released each month.
What level are the exercises? 
This course will have beginner to advanced exercises with most falling in the beginner to intermediate level.   
Possible Equipment – substitution will be recommended if you don't have equipment used in the videos. FitPAWS is offering a 30% education discount. Klimb is offering a discount as well. Information to get the discount will be available upon enrolling.
▸
Balance Pads, Feed buckets, Bones and Cones will be used. I will also use other balance equipment but substitutions can be made.  
There are many possible equipment options using household items such as your couch cushions!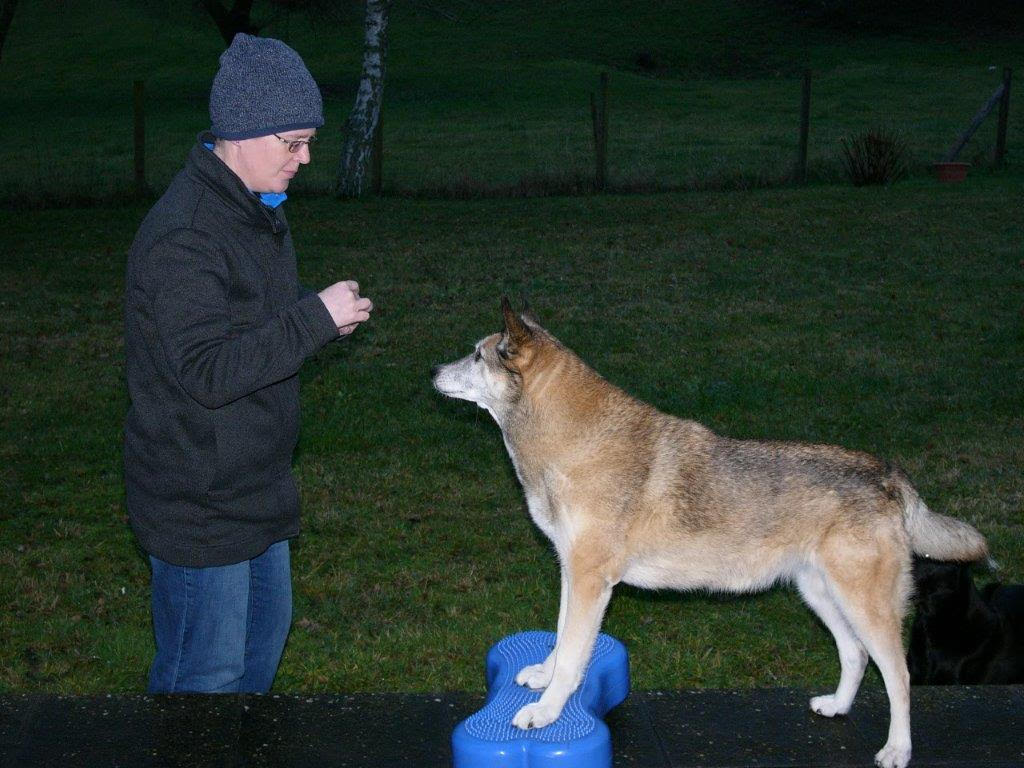 TESTIMONIAL | Senior Dog Fitness
My name is Ulrike and I am currently enrolled in Lisa's "Senior Dog Fitness" online course to keep my 13 year old Lani as healthy, fit and active as possible.
I had lost quite a bit of confidence after having participated in another fitness online course with my Lani. Lisa helped me get back on track. She gives a wealth of background information and what to look for to be able to do safe, fun exercises with our aging dogs. I especially love her precise, encouraging and helpful video feedback. And she patiently answers ALL questions! She not only gives tips to help with upcoming training issues, but gives reasons and background information regarding correct posture, good and safe movement, and of course special considerations for older dogs. All this has helped me grow as a trainer and grow my confidence that what I'm doing is not possibly hurting my Lani.
Each lesson comes with clear, precise text information, several videos, often starring different dogs, and also pictures. Even additional videos are added when students need them to clarify something! Possible physical limitations are addressed and alternatives or changes suggested for different dogs. In the chat, questions can be asked, other students' videos can be reviewed, and Lisa's feedback to those videos can be studied, which gives one more layer of learning experience.
Thank you Lisa for a great course and I hope to see you for the Senior Fitness Monthly 2021
Training Methods - A variety of training methods can be used to obtain the proper movement or position - shaping, luring, capturing, targeting and molding. You will need to break each behavior down into small pieces so that your dog understands what is being asked.
Disclaimer: Some information in this class may overlap or appear in other classes due to the foundation needed for many behaviors, tricks and fitness exercises. In addition, there are overlapping skills needed for many different performance activities so you may see exercises that are the same but packaged up differently toward a slightly different goal. This class will not repeat the exact workouts from the senior dog fitness class.   New Workouts will be given!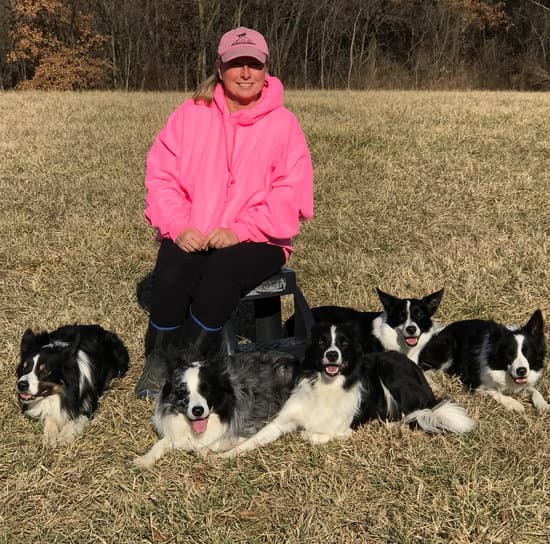 Lisa Schmit, PhD, CCFT, CPMP
Certified Canine Fitness Trainer
Certified Pet Massage Practitioner
Certified Canine Myo-Manipulative Functional Practitioner
Certified Animal Cold Laser Practitioner
Certified Canine Kinesiology Tape Practitioner
Lisa is the owner of In The Zone Agility LLC and is one of the most accomplished handlers in NADAC. Her consistent, clear positive approach to dog training is evidence with her continual success with multiple dogs! She offers agility, conditioning and massage seminars across the continent and puts on about 12 NADAC trails a year.
Lisa has come home from the NADAC Championships with 10 trophies with 5 different dogs. She has finished in Overall Top 3 at NADAC Champs 22 times with 9 different dogs including her Brittany and Aussie. Tandem, JP7 and Revolution earned the coveted Purple MODSQUAD award--Master of Distance and Speed which requires high level distance handling and speed. Less than 25 dogs in the world have this award and Lisa has three of them. JP7 and Tandem earned the Distance Cup Award. Nine of her dogs have over 175 NATCHES, over 45 Speed Stars. Eight of her dogs have almost 200 Bonus Runs (requires big distance skills). Her dogs are consistently in the Top 10 every year and in most categories in the NADAC Hall of Fame.
To learn more about Lisa visit: www.inthezoneagility.com
Choose a Pricing Option

[ Space is Limited to 20 Workers ]
Monthly Subscription or Pay Yearly
Note: This class is a 12 month commitment. Cancellation will drop you from the class and you will no longer have access to any previous months class lessons/workouts. Our system is not equipped to allow partial access to a class.
AUDITOR
$39/mo
12 payments of $39/month, USD
*Taxes are included in listed price*

---
Ask questions in the discussion threads
View video feedback recordings in the working students threads
AUDITOR
$468/yr
One-time fee, USD
*Taxes are included in listed price*

---
Ask questions in the discussion threads
View video feedback recordings in the working students threads
WORKER
$59/mo
12 payments of $59/month, USD
*Taxes are inlcuded in listed price*

---
Ask questions in the discussion threads
Submit videos for feedback
Earn certificate of completion
WORKER
$708/yr
One-time fee, USD
*Taxes are included in listed price*

---
Ask questions in the discussion threads
Submit videos for feedback
Earn certificate of completion
This course is not open for enrollment at this time.
Questions about the course? 
Email the instructor Lisa Schmit at
Add HTML and/or Liquid to build your own custom block. Any change made via custom HTML/Liquid cannot be ensured for full compatibility with current or future versions of Teachable.