Enrollment Begins 10am Pacific on: 
September
1st, 2023
and Ends: 
September
19th, 2023 
@ Midnight
Take Simple Movements and Turn Them Into Exercises!

Do you feel like all you do is train?   
Are you unsure about where to start on your canine fitness journey?
Do you struggle to take movement and turn it into strength?
If so, this workshop will help you limit the time training and maximize the benefits of the strength training.
A lot of people ask me what strength training can do for their dog. After all it is not as visible. For instance it is really visible to see a dog offer a nose touch vs NOT offering a nose touch. In fitness the milestones are more subtle and show over time.


With canine fitness training we are working on improving movement by challenging your dog's strength and balance which in turn creates better foot placement in all that they do.
In this workshop we will turn movements that your dog already knows OR movements that are easy to obtain into fitness exercises.
Learn how to maximize these movements
and leave this
workshop with THREE complete fitness programs
that you can adjust to your dog's level of fitness. 
In this workshop we will focus on
two to three exercises per movement.
You will learn how to easily turn these movements into fitness exercises.
 These movement may be used as stand alone or in combination with each other to create a variety of exercises.
◈ Movements that will be covered include:
◇
Down 
◇
Sit 
◇
Shake, Wave or give a paw (lifting front paws individually)
◇
Pivot
Using minimal equipment, you can improve your dog's movement and build strength with movements your dog already knows and/or can easily be trained, shaped or lured.
Who Should Participate?
→ Dogs that are 6 months or older - this workshop is great for puppies & seniors!
→ Newbies to canine fitness
→ Those who would like to fine-tune their fitness skills
→ Anyone who wants to learn how to turn basic movements into exercises for strength and balance
Why Take This Workshop?

➤ Understand why you are doing exercises
➤ Learn what the benefits of repetitous exercise
➤Learn how to come up with your own exercises using foundation movements your dog knows

Advantages of the Online Workshop
✔️ Convenience of live instruction online with voiceover video analysis
✔️ Save on travel expenses (flight, hotel, meals, etc)
✔️ Time efficient to learn the material vs. the traditional workshop format
✔️ Work with your own dog in the convenience of your own home
✔️ Access to the material for as long as BLCC exists.
What's Included?
Bobbie will teach using zoom, power point, and videos. You can ask questions during the live sessions as well as later in the online classroom.
Discussion Threads
➤
There will be discussion threads for workers to post their videos and auditors to ask questions
- Access to workshop material is for as long as BLCC exists.


Format
➤ TWO LIVE sessions (approx. 2 hrs) will be held: September 20th, 2023 at 3:30pm Pacific - this is the LIVE workshop. This is for all participants (workers and auditors). After the workshop Bobbie will upload supporting information for download.
➤ October 4th, 2023 at 3:30pm Pacific - coaching call where Bobbie will provide feedback on worker video submissions and answer any questions you may have.
Start Date
➤
The live workshop will officially start on
September 20th, 2023 at 3:30pm Pacific
, with another live event on
October 4th, 2023 at 3:30pm Pacific
to discuss feedback given on submitted videos.
Video Review
➤ Voiceover video review is done by screen-casting for a more personalized experience. Screen-casting is audio-visual feedback (the next best thing to a 1:1 conversation)
➤ Students can submit video for the following:
➢ Four 1 minute video of movement exercises for review and feedback
➢ Four exercises that participants come up with using foundation movements - video limit of one minute per exercise
➤ Videos are due by October 4th, 2023.
*Note: You do not have to fill the time limit in the videos. If you can show what is needed in less video time that is totally fine and appreciated.


Live Q&A
➤ During the LIVE Q&A sessions Bobbie will answer questions, demonstrate live, and give feedback on videos submitted for review.
The school reserves the right to modify, update or remove this class at any time.

Possible Equipment 
Substitutions will be recommended if you don't have the equipment used in the videos. Many exercises will be shown on the flat (no equipment needed). FitPAWS is offering a 30% education discount. Klimb is offering a discount as well. Information to get the discount will be available upon enrolling.
▸ Plank (2o2o Board, Cato Plank, Aerobic Bench) - long enough for your dog to lay down without feet hanging off
▸ Something about 2-6" high to prop under one end of your plank (Cato boards, 2 balance pads K9FITbone, Propel)
▸ Something between wrist and chest high, for front feet to be on (balance disc, balance pad, Cato board/plank)
*There are many possible equipment options or you may use something you have laying around your house.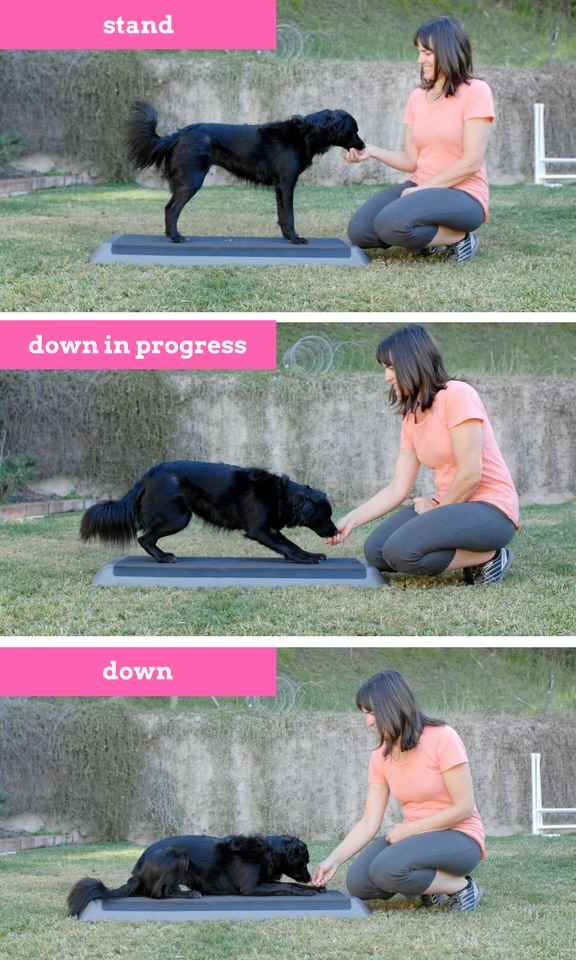 Suggested Pre-requisites
✔
A basic understanding of how to positively train dogs and an open mind.
✔ The following foundation target skills will be used in this workshop:
● Front foot targeting
● Hop it up (all feet on one prop)
● Rear foot targeting
● Nose touch
Training for these foundation targeting skills will not be shown in this workshop but they can be learned in the Self Guided Targeting Essentials for K9 Fitness.

Training Methods
 A variety of training methods can be used to obtain the proper movement, position, or posture - shaping, luring, capturing, targeting, and It's Yer Choice. These will be discussed and demonstrated in the video tutorials and through video review but every tiny step will not be demonstrated
Disclaimer: Some information in this class may overlap or appear in other classes due to the foundation needed for many behaviors, tricks and fitness exercises. In addition, there are overlapping skills needed for many different performance activities so you may see exercises that are the same but packaged up differently toward a slightly different goal.

Bobbie Lyons, CSCC, CCFT, KPA CTP

Lead Instructor & Program Director for the Certified Canine Strength and Conditioning Coach Program
Certified Canine Fitness Instructor
Karen Pryor Certified Training Partner
Bobbie has been teaching and learning about canine fitness for over 18 years. Her keen eye of movement and abililty to adjust exercises to improve strength is undeniable.
Bobbie creates pet, performance and working dog canine fitness plans focusing on improving posture and strength specifically for the activities the dog is involved in, or the activities the handler strives to achieve.
Blending dog training techniques with canine fitness is what makes Bobbie an asset to any handler dog team or family. She can help you break down behavior, add in strength and end up with a very strong behavior that improves performance while decreasing the chance of injury.
Bobbie is the Program Director for the Certified Canine Strength and Conditioning program accredited by the North Carolina State Veterinary Medicine and a Karen Pryor Academy Faculty member. She spends a good amount of her time teaching others to improve their training skills and how to add canine fitness to their career path.
Bobbie is a fun, relaxed instructor who likes to teach more like a conversation. She is very giving of her time and imparts an amazing amount of information. This is in an effort to help students understand why, how and what to look for when training and completing canine fitness exercises.
Bobbie has 4 dogs who swim weekly, play frisbee, trick training, and take part in canine fitness exercises. Bobbie previously has competed in agility, dock diving, disc, and trick training. Bobbie trains a large variety of behaviors in an effort to understand what is needed in many canine sports and what is required of working dogs. Her clients whether a pet, sport or working dog benefit from Bobbie's vast knowledge of canine fitness and dog behavior training.
To learn more about Bobbie visit:
Do you want to schedule a zoom lesson?
Click HERE to Schedule a Zoom Lesson
Do you want to schedule a lesson at my studio in Hillsboro, OR: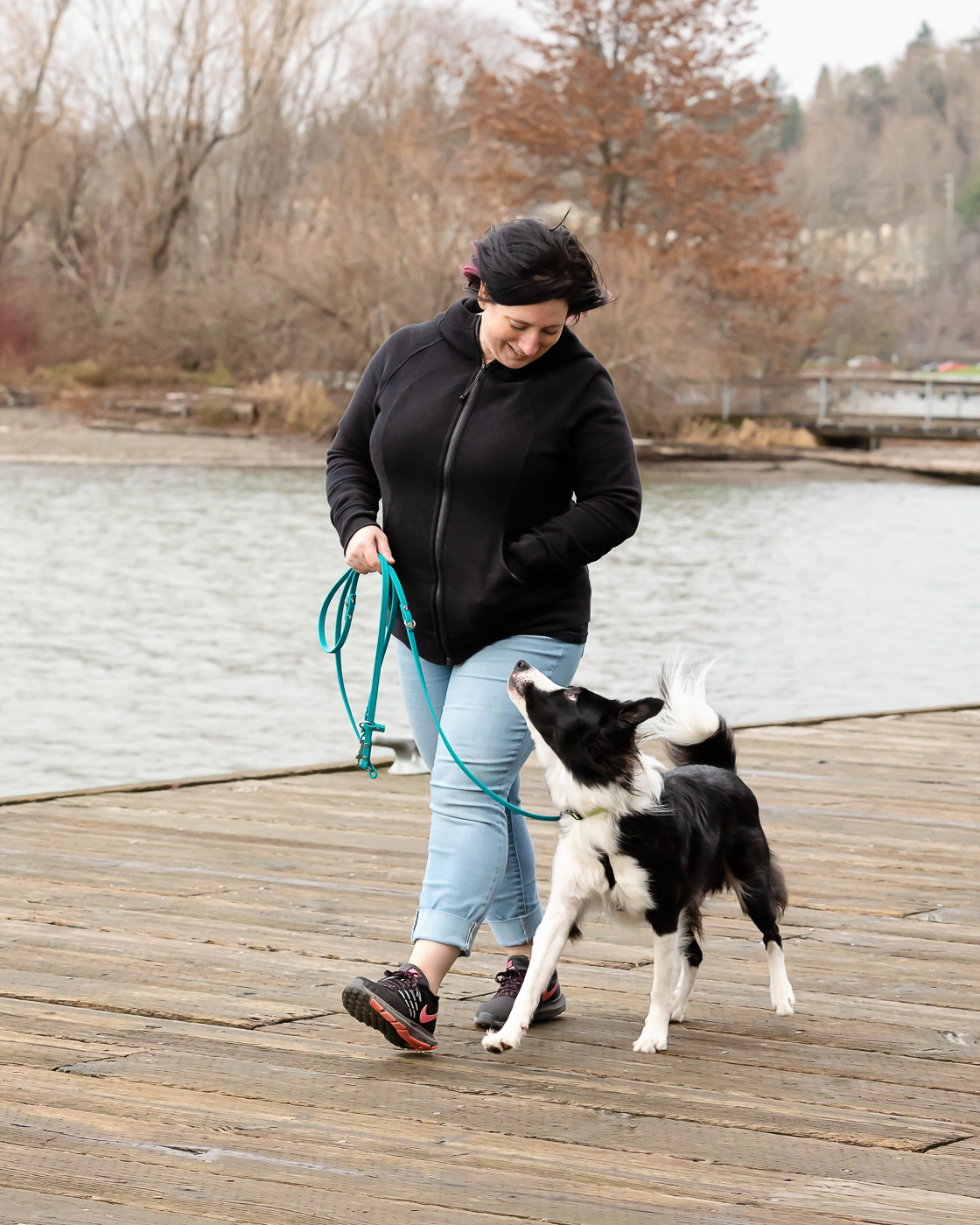 Questions about the workshop?
Email the instructor Bobbie Lyons at