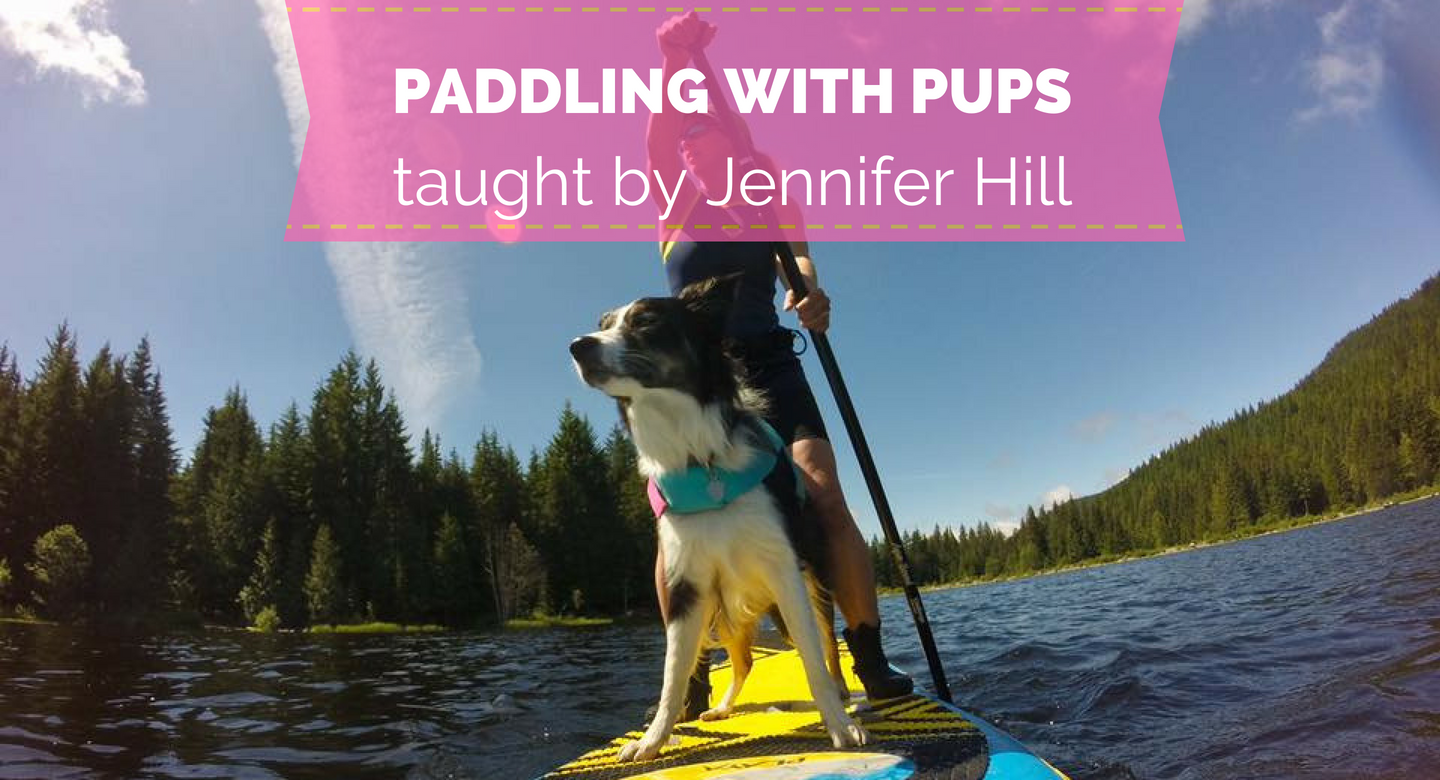 Paddling with Pups
This class is all about Stand Up Paddle-boarding with your Pups
There will be discussion threads to ask questions and post video for review. Everyone is a participant. Each class is broken into sections with one or more lessons within each section. You can post ONE short 1-2 min video per section for instructional review.
Each section will post to the site every 7 days. The course is open for video submission, questions, review and comments for 90 days after the first day of class - access to material lasts for 1 yr.
This class will cover most of the basics of the fastest growing watersport, Stand up Paddle-boarding! Topics will range from equipment to technique to exercises to get you and your dog in shape for the paddling season. Also ways to introduce this new sport to your canine pal.
Why take this class:

🌀 Learn about what equipment is out there and the pros and cons to each type of board
🌀 Learn some simple and some not so simple exercises to improve your balance and core strength
🌀 Help your dog develop stability on uneven surfaces that will help the transition to the water
🌀 How to avoid repetitive use injuries common in the sport of Stand Up Paddle-boarding by using proper bio-mechanics
🌀 How to introduce your dog to the water and how to keep it safe and fun for everyone
🌀 Video instruction on common mistakes and how to look like a pro your first time out (ok, maybe your 2nd!?!?)

Curriculum (7 lessons):
Equipment instruction
Exercises for people
Exercises for dogs
Biomechanics of the paddle stroke
Introduction of dogs to the paddle board
Putting it all together
WHAT LEVEL ARE THE EXERCISES:
This course will have beginner to advanced exercise with most falling in the intermediate to advanced level. This class will focus specifically on the exercises taught, mechanics demonstrated, and techniques explained and the instructor will answer questions about the foundation needed but will not be teaching all the foundation movements (see suggested pre-requisite).
Suggested Pre-requisite behaviors either on cue, using a target or lured:
🌀 Dog is comfortable on balance equipment
🌀 Value for front, rear, and all feet on equipment
🌀 Value for "Go mat!" or some sort of placing activity
🌀 Dog and person know how to swim and enjoy it!
🌀 Right and Left Circles (Spin & Twist)
Possible equipment – substitution will be recommended if you don't have equipment used in the videos. There are many possible equipment options or you may use something you have laying around your house.
🌀 Rocker board or non slip board – can cause rocking motion w/ towel roll
🌀 2o2o board/travel plank or aerobic bench
🌀 K9FITbones, large discs, donut holders
🌀 Paddle board, paddle, lifevests for people and dogs, board leashes
🌀 Bath mat or the equilivant (yoga mat, towel)
Disclaimer: The information in this class may over lap or appear in other classes due to the foundation needed for many behaviors, tricks and fitness exercises. Also, there are inherent risks to the sport of Stand Up Paddleboarding. The instructor, Jennifer Hill, Bobbie Lyons and Pawsitive Performance will not be liable for any injury that may occur due to participation in this class.

Your Instructor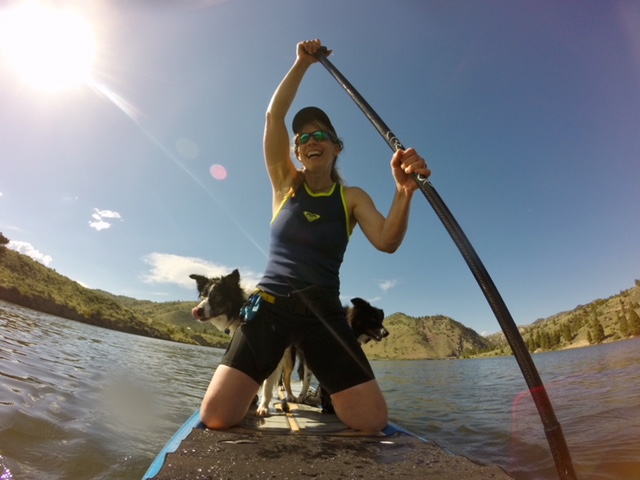 Jennifer Hill received her Master's of Science in Physical Therapy (MSPT) from the University of Colorado in 2000. She remains a licensed physical therapist in the "human realm". She has since specialized and has become the first physical therapist in Montana who has her certification in Canine Rehabilitation. This specialization was completed in 2004 at the University of Tennessee, which is the nation's only university based Canine Rehabilitation Certification. This training along with her physical therapy education and experience has provided a solid foundation and unique understanding of the challenges faced by our four legged companions.
Frequently Asked Questions
When does the class start and finish?
Read each class description to find out when class starts. Some start right after you enroll and some will start after the enrollment period ends. New material will be dripped out every 7 days after class begins to allow you time to process the information and start the training process. Video review and commenting will be open for 90 days from the start of class allowing you plenty of time to work through the material, take and edit video and formulate your questions as well as allow the instructor time to review and give feedback. We have built in extra time after all class materials are available so that students that are behind or students still working on behaviors can ask questions and post video for review and comment.
How long do I have access to the class?
For one year from the start of class. The school reserves the right to modify, update or remove this class at any time.
What is your refund policy for current classes?
You will receive a refund if you request your cancellation at least 1 day before the class begins. There are no refunds after class has started.
What if I am unhappy with the class?
We make every effort to offer valuable information at an affordable rate. We suggest you read the class description carefully before making your purchase to determine if the class is right for you. Because there are many levels of trainers, there will be material that is review for some and new to others. For those that are review, it will give you an opportunity to look at what you have trained and refine the behaviors as needed. If you are unsatisfied with your purchase, please contact admin at
[email protected]
Can instructors diagnose or treat injury?
No - instructors and assistant instructors cannot diagnose or treat injury. They can design fitness plans for healthy dogs or dogs that have a written release from veterinary care and/or veterinary rehabilitation care.