Enrollment Begins 10am Pacific on: July 1st, 2022 
and Ends: July 15, 2022 @ Midnight

Targeting Improves Muscle Engagement
Learn the Targeting Skills that will Decrease the Amount of Time Needed for Fitness!
SELF-PACED CLASS
As soon as you sign up you will have access to the full course!




Do you have a dog that dives on props as you put them on the floor or a dog that is overly focused on your hands?
A lot of clients think this is endearing as their dog is so excited to get on equipment and super food motivated but in reality it shows a lack of solid communication between handler and dog. This takes precious time away from what ever task you are training.
Putting each target behavior on cue (verbal or hand signal) will make your training sessions more efficient and will "give more specific information to your dog" to create a better line of communication.
Who Should Participate?
→ Any Healthy Dog! Beginner to advanced dogs that don't already have the targeting skills on cue.
Why Take This Class?
➤ Targeting improves communication between dog and handler
➤ Targeting is a useful way to teach behaviors and tricks
➤ Targeting is useful to obtain specific position for fitness exercises
➤ Learn about shaping behaviors and timing of the click (refine your shaping skills)
Advantages of the Online Class
✔️ Convenience of online learning
✔️ More time to learn the material than the traditional in person class format
✔️ Work at your own pace in the convenience of your home
✔️ Access to the material for at least 1 yr.
What's Included?
SELF-PACED CLASS
As soon as you sign up, you have access to all the lessons.
This way, you can pick and choose which exercises to work on.


Discussion Threads
There will be discussion threads to ask questions.
Video Review
Working students can submit up to 3 minutes of video per lesson for instructional review.  Voiceover video review is done by screen-casting for a more personalized experience. Screen-casting is audio-visual feedback (the next best thing to a 1:1 conversation)
Start Date
Class will begin right after you enroll. This class is always open so some students will be ahead of you and some will be behind you.


Format
Each class is broken into lessons, with one or more exercises within each lesson.


Timelines
The class is open for video submission, questions, review and comments for 90 days allowing you plenty of time to work through the material, take and edit video and formulate your questions as well as allow the instructor time to review and give feedback.
- access to material lasts for 1 yr.
The school reserves the right to modify, update or remove this class at any time.
Curriculum:
Nose Touch
Sustained Nose Touch
Chin "Rest"
Target Stick
Floor Targets
Front and Rear Feet Targeting
Individual Rear Foot Lifts
Individual Front Foot Lifts
Side Feet Targeting - Foundation
Side Feet Targeting or Ipsilateral Stands
All Feet Targeting
What Level are the Exercises? 
This course will have the foundation targeting skills, but even those who have been doing fitness for a while may benefit from revisiting and refining their targeting skills. There are no actual exercises included in this class.
Suggested Pre-requisite - a basic understanding of clicker training is helpful, but not required.
Possible Equipment – substitution will be recommended if you don't have equipment used in the videos. FitPAWS is offering a 30% education discount. Klimb is offering a discount as well. Information to get the discount will be available upon enrolling.
▸ Clicker
▸ Target Stick
▸ Floor Targets
▸ Mat
▸ Feed Pan
▸ Frisbee
▸ Cone
There are many possible equipment options or you may use something you have laying around your house.
Training Methods - A variety of training methods can be used to obtain the proper movement or position - shaping, luring, targeting, and It's Yer Choice. These methods will be discussed in the video tutorials, in the forum and through video review.
Disclaimer: Some information in this class may overlap or appear in other classes due to the foundation needed for many behaviors, tricks and fitness exercises. In addition, there are overlapping skills needed for many different performance activities so you may see exercises that are the same but packaged up differently toward a slightly different goal.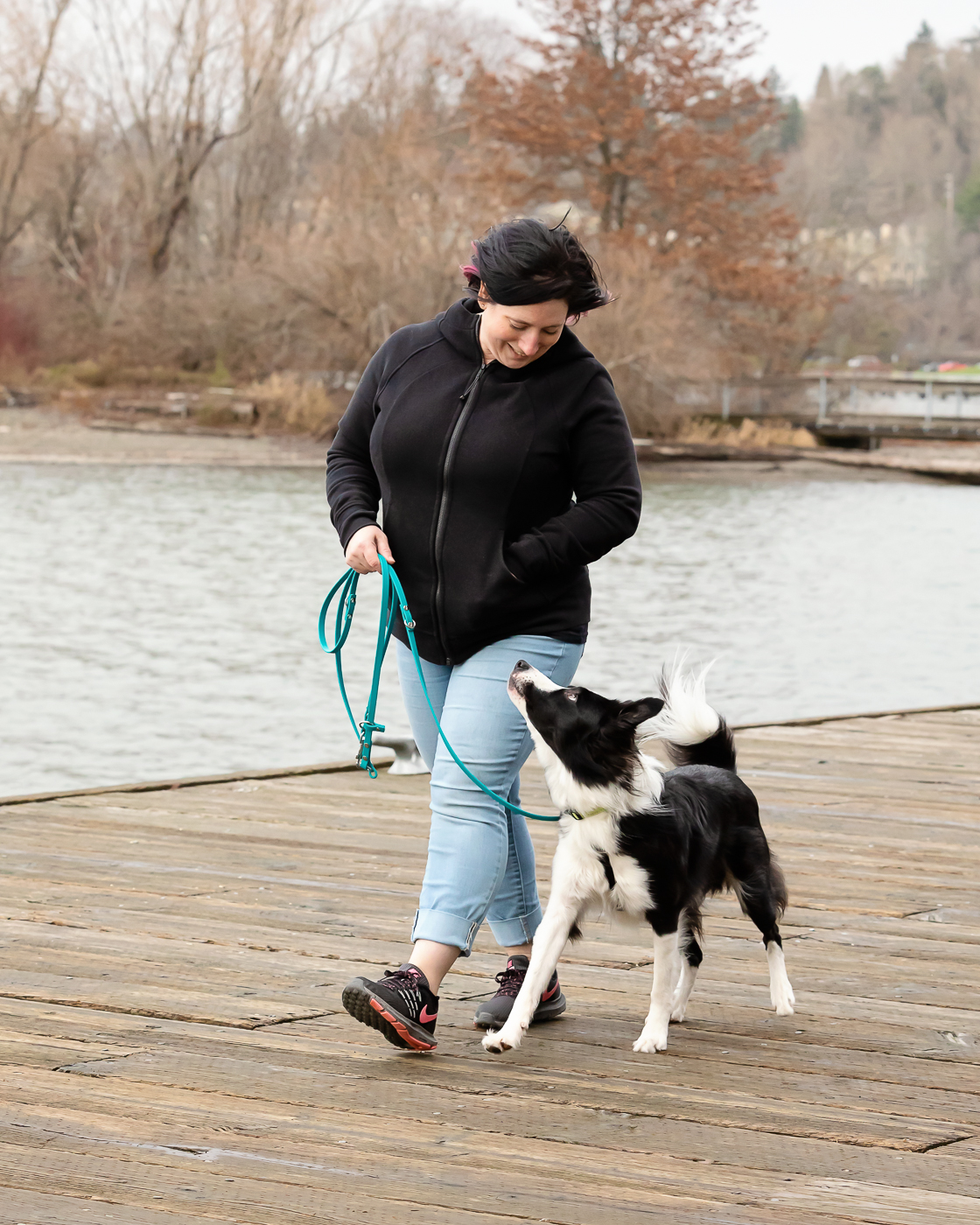 Bobbie Lyons, CCFT, KPA CTP
Certified Canine Fitness Trainer
Karen Pryor Academy Faculty
CGC Evaluator (trick titles)
Bobbie owns and operates Pawsitive Performance LLC which offers dog training, fitness training and trick training around the globe. She was part of the TEAM that contributed knowledge and experience to design the CCFT II Live Lab and is a course "Instructor" for the program. Bobbie also completed the certification program for Canine Fitness through the Companion Animal Sciences Institute and she is a Certified Training Partner with the Karen Pryor Academy.
Bobbie has 4 awesome dogs that train a variety of skills for agility, fitness training, trick training, tugging and dock diving. Bobbie enjoys the training process and strives to comuinicate in the best way she can to help her dogs and clients dogs understand the task at hand. She starts every training sessions with this question "how can I set the dog up for success and give the dog the best information to successfully complete the behavior".
To learn more about Bobbie visit:
Pricing & Participation Options...
[ Space is Limited to 10 Workers ]
AUDITOR
$129
One-time fee, USD
---
Ask questions in the discussion threads
View video feedback recordings in the working students threads
WORKER
$179
One-time fee, USD
---
Ask questions in the discussion threads
Submit videos for feedback
Earn certificate of completion
This course is not open for enrollment at this time.
Questions about the course?
Email the instructor Bobbie Lyons at