Turning Out of Tunnel Drill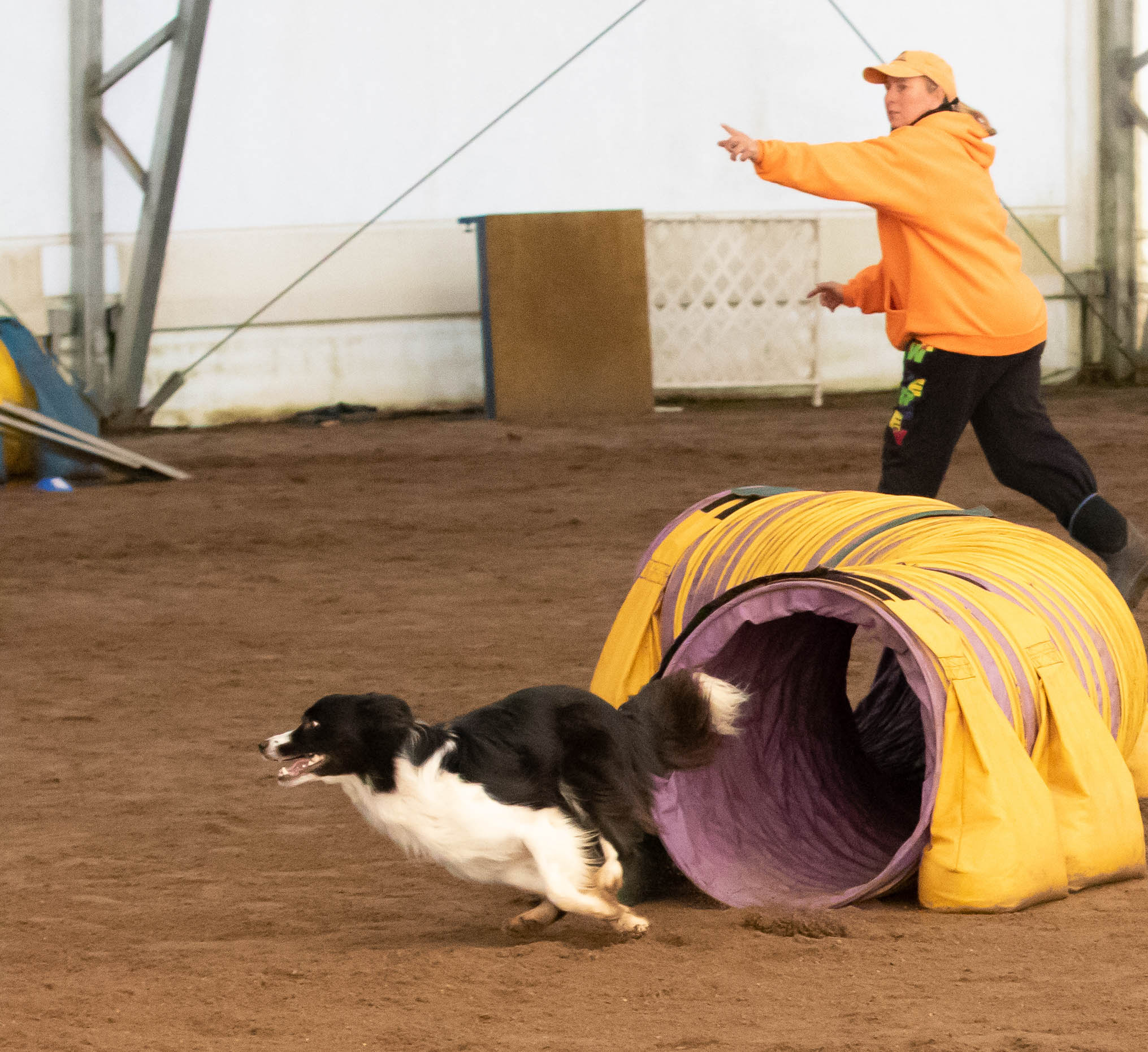 It is very important to have a clear, consistent cueing system and to understand what, when and where to cue your dog.
A: Handler needs to recognize where and when the dog must be given a cue. (Location and timing of cue) 80% of the time, I cue my dog the obstacle before a change of direction needs to happen. A change of direction can be a turn, come in, go out or even a go if needed. There are times when I cue and want an instant change of direction (Switch on the ground or some outs).
B: Handler needs to understand what cue(s) should be given. A cue consists of up to 3 different properties; verbal commands, body language and motion. Saying the right words, giving the right body language (shoulders, arm, feet, head, eyes) and movement (acceleration/deceleration, stride length) all in a clear, crisp, consistent, calm, confident way while maintaining criteria, running with conviction and staying connected with your dog---all work together to provide a proper cue. If you can cue properly, your dog will be confident and go faster and you can have more distance!!
One of my favorite exercises to test my cues is to use two straight tunnels and move the tunnels closer and closer together. I cue my dogs to drive forward (GO), turn towards me (HERE) and SWITCH (Turn away from me). I then move the tunnels closer and closer together so that there is about 3 feet between tunnels. Dogs really need to understand their cues when there is another tunnel only a few feet away from the tunnel they are exciting! The key to handling this sequence is to cue BEFORE dog goes into tunnel. There is no way that you can cue your dog AFTER the tunnel if the next tunnel is only 3 feet away! That is why I love this exercise !! It really tests your cues and timing of cues JMany people are afraid to cue a turn before a tunnel as they are afraid that their dog may not take the tunnel at all. And this may happen at first. If this happens, you just say the command when the dog is in the tunnel and back-chain until you are cueing before dog goes into tunnel.
Here is a video of the exercise!! ENJOY!!
https://youtu.be/7X7DV8GOpf0
~ Lisa Schmit, PhD, CCFT, CPMP
Owner: In the Zone Agility in Illinois