Enrollment Begins 10am Pacific on: September 1st, 2022 
and Ends: September 15th, 2022 @ Midnight

Whatever Sport You Compete in, You Want to be Connected as a Team
Learn How to Create a Thinking Connected Dog!
Are you and your dog in the Connection Zone when working or does your dog zone out? 
Do you have a stressed or high dog? 
Does your dog leave you to go sniff or visit ring crew?
Regardless of what sport you compete in, you want to be connected as a team before you begin. There are many connection exercises that we can do to create a THINKING CONNECTED dog. I do not want a crazy high dog or a slow, motivationally challenged dog. I have had both! In this class we will go over connection games to do with your dog to keep your dog in the Connection Zone inside and outside the ring. Arguably what happens outside the ring can be as important as what happens inside the ring. We will go over pre-run routines as well as what to do what things don't go as planned in practice as well as in competition.
The more tools you have in your box the better!!
This class is for all sports teams not just agility!! This class is great for puppies and dogs of all ages! These games and exercises can be done in a small area so great to do over the winter!
Who should participate?
→ EVERY DOG!
Why take this class?
➤ Learn exercises and games that will help you and your stay dog stay in the Connection Zone
➤ Give you tools to help you reconnect with your dog when your dog disconnects from you
➤ This class is great for all dogs and puppies!!
Advantages of the Online Class
✔️ Convenience of online learning
✔️ More time to learn the material than the traditional in person class format
✔️ Work at your own pace in the convenience of your home
✔️ Access to the material for at least 1 yr.
What's Included?


Discussion Threads
There will be discussion threads to ask questions.
Video Review
Working students can submit up to 3 minutes of video per lesson for instructional review. Voiceover video review is done by screen-casting for a more personalized experience. Screen-casting is audio-visual feedback (the next best thing to a 1:1 conversation)
Start Date
Class will begin right after you enroll. This class is always open so some students will be ahead of you and some will be behind you.


Format
Each class is broken into lessons, with one or more exercises within each lesson.


Timelines
The class is open for video submission, questions, review and comments for 90 days allowing you plenty of time to work through the material, take and edit video and formulate your questions as well as allow the instructor time to review and give feedback.
- access to material lasts for 1 yr.
The school reserves the right to modify, update or remove this class at any time.

Curriculum:
Lectures: Training, Rewarding, Consistent Cues and more
Connection Examples with Multiple dogs (including student's dogs) 
Tricks for Connection
Shadow-Handling, Space Games and More
Moving Waits, Delayed Rewards, Restrained Releases
Bucket Work for Connection and Focus
Pre-Run Routines
What to do In The Ring 
Bonus Lessons that include 5 more Connection Exercises
What level are the exercises? 
This class is great for all dogs and puppies!!
Suggested Pre-requisite - NONE
Possible Equipment – We will be using food rewards, toys and elevated foot targets to teach the connection games. We will also use various agility equipment (or whatever sport you play in) to work connection during practice in your chosen sport. I will post videos performing connection exercises during agility practice.
Here is a video of Lisa running her deaf dog staying connected and with good distance:
Training Methods - A variety of training methods can be used to obtain the proper movement or position - shaping, luring, capturing, targeting and molding. These will be discussed in the video tutorials, in the forum and through video review but every tiny step will not be demonstrated in the instructional video. You will need to break each behavior down into small pieces so that your dog understands what is being asked.
Disclaimer: Some information in this class may overlap or appear in other classes due to the foundation needed for many behaviors, tricks and fitness exercises. In addition, there are overlapping skills needed for many different performance activities so you may see exercises that are the same but packaged up differently toward a slightly different goal.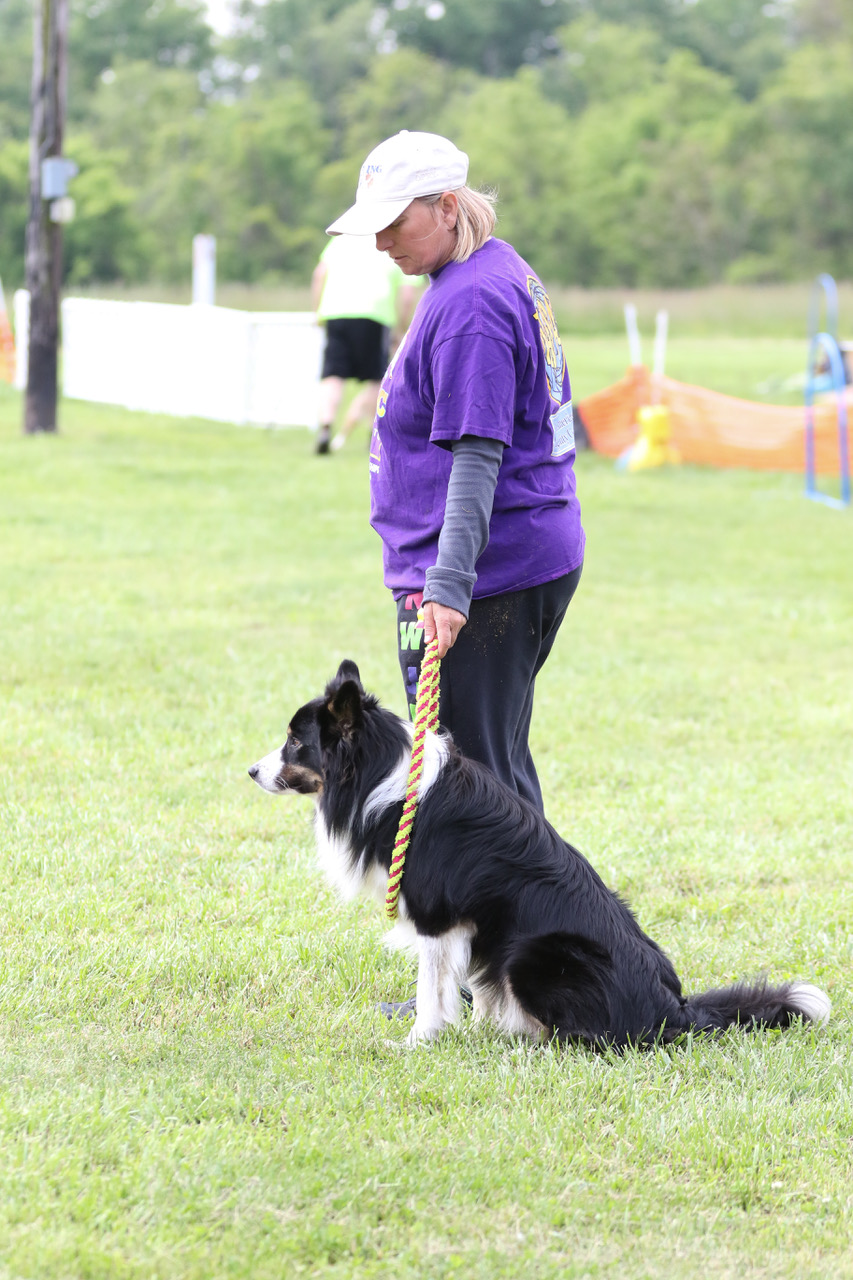 Lisa Schmit, PhD, CCFT, CPMP
Certified Canine Fitness Trainer
Certified Pet Massage Practitioner
Her consistent, clear positive approach to dog training is evidence with her continual success with multiple dogs! While she primarily competes in NADAC, her training and handling philosophy translates to all venues. Path work is paramount in all venues. Being able to draw efficient lines, speedy independent obstacles, and providing clear and consistent cues help teams compete successfully in all venues from Teacup to USDAA.
Her goal is to have amazing relationships with her dogs and for them to run fast and confidently well into their double-digit years. The core of her training philosophy is based on solid foundation skills and consistent handling to motivate her dogs in a fun and positive way. She uses a positive reward-based system of training and errs on the side of rewarding too often than not enough. She believes it is her responsibility to maintain cues in a clear, crisp, calm and confident manner. This gives her dogs confidence to trust her cues which builds relationships, speed, drive and distance. As a skill trainer, she focuses on developing, refining and rewarding obstacle performance and handling. She believes groundwork and foundation skills are the building blocks to success. She trains in short fun sequences so she can train various handling options, push for distance and reward often. She trains skills and obstacles so that her dogs are confident in their ability to understand her cues and to perform obstacles efficiently, at speed and at a distance.
Pricing & Participation Options...
[ Space is Limited to 10 Workers ]
AUDITOR
$129
One-time fee, USD
---
Ask questions in the discussion threads
View video feedback recordings in the working students threads
WORKER
$179
One-time fee, USD
---
Ask questions in the discussion threads
Submit videos for feedback
Earn certificate of completion
This course is not open for enrollment at this time.
Questions about the course?
Email the instructor Lisa Schmit at