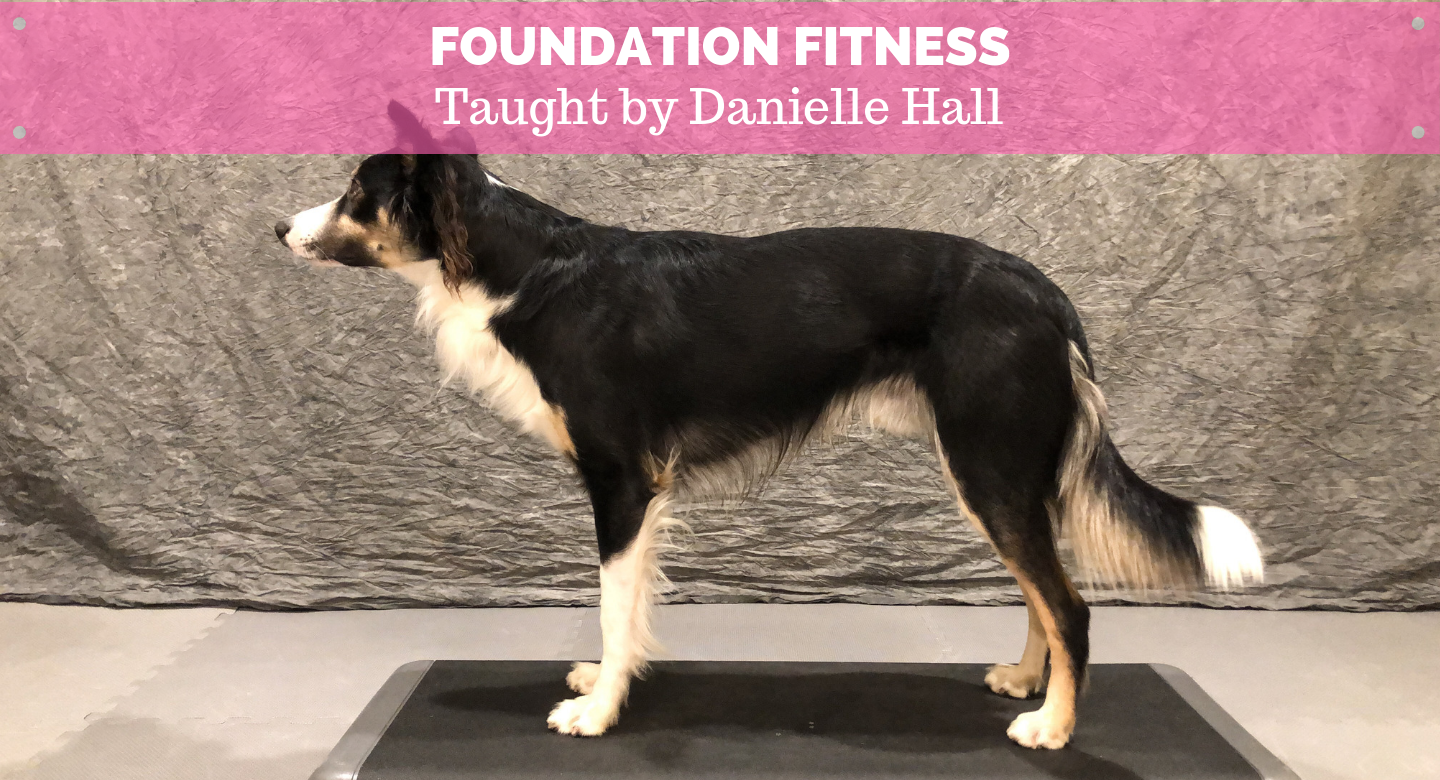 Foundation Fitness
Taught by Danielle Hall, CCFT
This class is all about training the foundation skills needed for canine fitness. Skills will be taught on the flat without any balance equipment and is more of a training class. About showing the proper training techniques for the foundation exercises and getting proper posture while engaging the correct muscles and muscle activation before putting dogs on balance equipment. This is a great class for PUPPIES!
There will be discussion threads to ask questions and post video for review. Everyone is a participant. Each class is broken into sections with one or more lessons within each section. You can post ONE short 3 min video per section for instructional review.
Class will start on the 15th of the enrolling month. Each section will post to the site every 7 days. The course is open for video submission, questions, review and comments for 90 days after the first day of class - access to material lasts for 1 yr.
Why take this class:
Strengthening and conditioning exercises are done in slow, deliberate movements maximizing the advantage of each exercise. Physically conditioned dogs perform better with less occurrence and severity of injury when involved in a regular conditioning program.
Some of the exercises presented in this class may be the same or similar to things you have already trained, however, you may learn you need to adjust your dog's body position or speed in which they are moving to maximize the benefits of the exercise for fitness.
Putting each foundation skill on cue (verbal or hand signal) will make your training sessions more efficient and will "give more specific information to your dog" to create a better line of communication.
The foundation exercises and positioning of the exercises taught in this class have been chosen to safely improve the following:
Trunk & Core Strength
Balance & Coordination
Flexibility & Range of Motion
Confidence
Body Awareness
Human/Animal Bond
Curriculum:
Stand
Stand/Down/Stand
Rock Back Sit
Tuck Sit to Stand
Weight Shifting
Backup
Side Stepping
Right and Left Circles
Popups
Pivot
Bow
And more…
What level are the exercises - This course will have beginner exercises, but even those who have been doing fitness for a while may benefit from revisiting and refining the foundation skills.
Suggested Pre-requisite - a basic understanding of clicker training and the following behaviors either on verbal or hand signal cue, using a target or lured:
Nose touch and/or nose touch hold
Chin rest
Go to mat
Possible equipment - substitution will be recommended if you don't have equipment used in the videos. Many exercises will be shown on the flat (no equipment needed).
2o2o board/travel plank or aerobic bench
Targets
Target Stick
Mats
Feed pan or bowl
Stool?
A variety of training methods can be used to obtain the proper movement or position - shaping, luring, capturing, targeting and molding. These will be discussed in the video tutorials, in the forum and through video review. A progression of the training process will be shown and in many cases more than one training option will be demonstrated for each movement and behavior.
Some information in this class may overlap or appear in other classes due to the foundation needed for many behaviors, tricks and fitness exercises. In addition, there are overlapping skills needed for many different performance activities so you may see exercises that are the same but packaged up differently toward a slightly different goal.
Disclaimer: The information in this class may overlap or appear in other classes due to the foundation needed for many behaviors, tricks and fitness exercises.
Your Instructor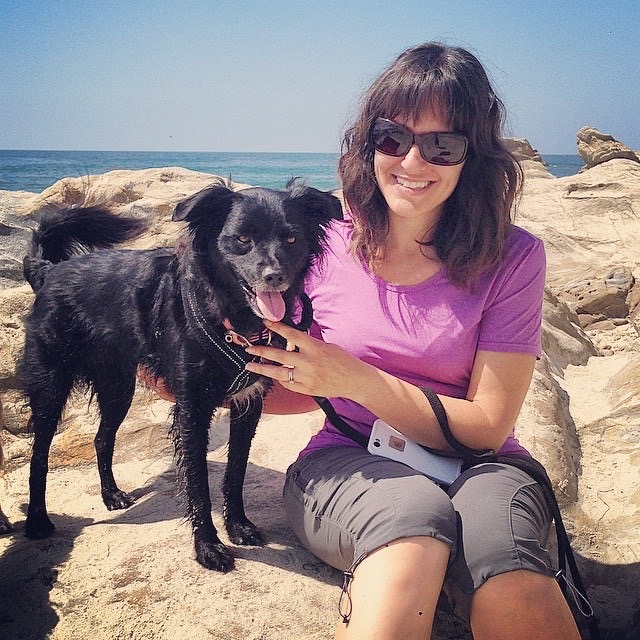 Danielle's journey to becoming a canine fitness coach began when her agility dog suffered a shoulder injury. The injury was not easily diagnosed and took over a year to confirm. During that time Danielle set out to learn as much as she could about canine body conditioning and injury prevention. The education, knowledge and training she acquired helped her dog return to an active lifestyle. She took every online class, seminar and workshop she could. One of her most invaluable resources has been everything she has learned from her friend and mentor Bobbie Lyons, CCFT, KP CTP, a pioneer in canine fitness. Danielle completed the University of Tennessee Certified Canine Fitness Trainer program earning a "CCFT" certification, as well as the FitPAWS Master Trainer "FP-MT" credential. Danielle is also a member of the Bobbie Lyons, Pawsitive Performance K9FITteam.
As a lifelong horsewoman Danielle came to realize that there was a lot more consciousness in the way people conditioned and trained their horses for their given discipline, whether they were a sport horse or just a good ol' trail horse. In the horse world conditioning is a regular part of the day to day training, but with dogs there seems to be a lack of awareness in the benefits a fitness and conditioning program can provide for both performance dogs and pet dogs.
Danielle regularly teaches in Bobbie Lyons Canine Campus and trains with Bobbie several times a year, as well as assists her with various workshops each year. Danielle's videos and photographs have been featured in many of Bobbie's online classes and articles, including articles published by Clean Run Magazine.

Danielle also offers private lessons, group classes, and workshops in the Southern California area and beyond. Her goal is share the benefits of canine fitness with dog owners to help reduce the chances of injuries and improve performance.

Frequently Asked Questions
When does the class start and finish?
Class officially starts the day after the enrollment period ends. New material will be posted every 7 days after class begins to allow you time to process the information and start the training process. Video review and commenting will be open for 90 days from the start of class allowing you plenty of time to work through the material, take and edit video and formulate your questions as well as allow the instructor time to review and give feedback. We have built-in extra time after all class materials are available so that students that are behind or students still working on behaviors can ask questions and post videos​ for review and comment.
How long do I have access to the class?
For one year from the start of class. The school reserves the right to modify, update or remove this class at any time.
What is your refund policy for current classes?
You will receive a refund if you request your cancellation at least 1 day before the class begins. There are no refunds after class has started.
What if I am unhappy with the class?
We make every effort to offer valuable information at an affordable rate. We suggest you read the class description carefully before making your purchase to determine if the class is right for you. Because there are many levels of trainers, there will be material that is review for some and new to others. For those that are review, it will give you an opportunity to look at what you have trained and refine the behaviors as needed. If you are unsatisfied with your purchase, please contact admin at
[email protected]
Can instructors diagnose or treat injury?
No - instructors and assistant instructors cannot diagnose or treat injury. They can design fitness plans for healthy dogs or dogs that have a written release from veterinary care and/or veterinary rehabilitation care.