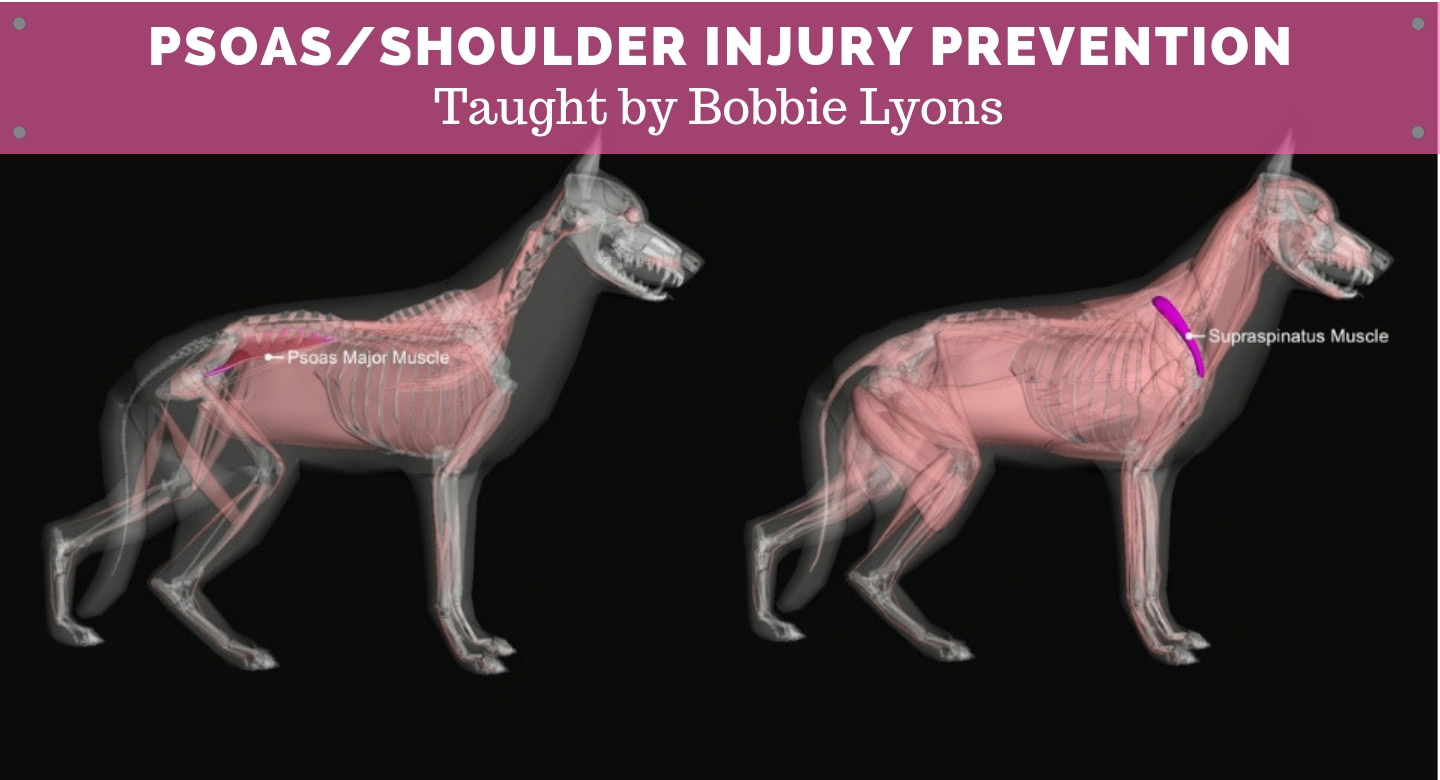 PSOAS AND SHOULDER INJURY PREVENTION
In the K9 sports world there is a lot of talk of injury to the shoulders and the Iliopsoas muscle. Often these injuries are "soft tissue" that are hard to diagnose and difficult to fully recover. My goal in this SIX week class, is help you understand how to reduce the chance of injury and have a better understanding of how these injuries can occur.
Iliopsoas (Psoas) injury is often seen in canine sports athletes due to over use of the muscles, splayed rear legs on slippery ground, under trained long jumps, and lack of strength in the core muscle group, just to name a few culprits. The iliopsoas is two muscles and supports more movements than you might think.
Shoulder injury often occurs due in performance dogs due to repetitive movements, managing surfaces, managing 60% of their body weight, the speed in which they are turning and more. This class will help you understand the complexity of the shoulder and how to support it through exercise.
Class starts January 15, 2018 and new information will post once a week every Tuesday for 6 weeks.
Why take this class:
how to understand Psoas and Shoulder Injury in performance dogs
describe the anatomy of the complicated shoulder and forelimb complex
potential reasons for Psoas and shoulder injuries
what may make your dog predisposed to psoas and/shoulder injury
prevention, strength, stretching, and conditioning exercises will be described in depth
post video and questions for review and comment
Curriculum:
THREE weeks will work specifically on Psoas.
THREE weeks will work specifically on Shoulders.
WHAT LEVEL ARE THE EXERCISES:

This course will have beginner to advanced exercise with most falling in the intermediate to advanced level. If you are a beginner you can start at the foundation level and work out to the more advanced movements. I will help you figure this out.
Possible equipment – substitution will be recommended if you don't have equipment used in the videos. There are many possible equipment options or you may use something you have laying around your house.
2o2o board/travel plank or aerobic bench
K9FITbones, large and small discs
Peanut
Klimbs or platforms
Cavalettis or agility jumps or poles on pop cans
Disclaimer: The information in this class may over lap or appear in other classes due to the foundation needed for many behaviors, tricks and fitness exercises. This class has been updated since appearing on Daisy Peel's classroom. This class was taught at Camddwr Canine in the UK in 2018 so if you took this class, it is the same class.

Your Instructor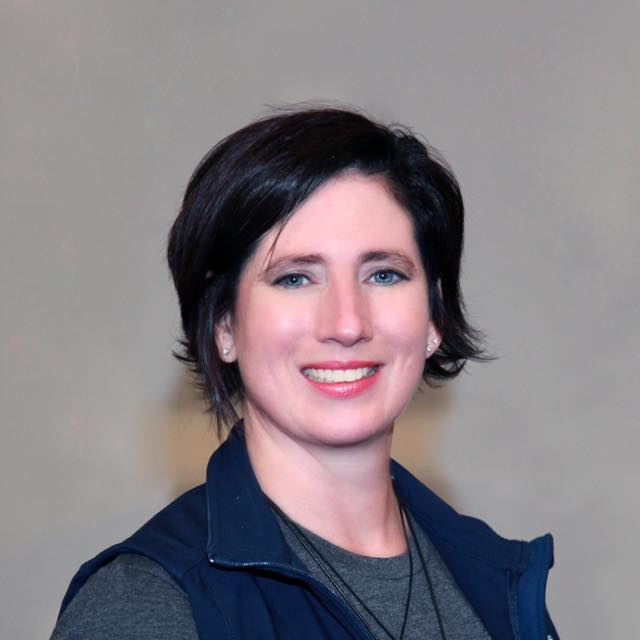 Certified Canine Fitness Trainer
Karen Pryor Certified Training Partner
CGC Evaluator (trick titles)

Bobbie owns and operates Pawsitive Performance which offers dog training, fitness training and trick training around the globe. She was part of the TEAM that contributed knowledge and experience to design the CCFT II Live Lab and is a course "Instructor" for the program. Bobbie also completed the certification program for Canine Fitness through the Companion Animal Sciences Institute and she is a Certified Training Partner with the Karen Pryor Academy.
Bobbie has 4 awesome dogs that train a variety of skills for agility, fitness training, trick training, tugging and dock diving. Bobbie enjoys the training process and strives to comuinicate in the best way she can to help her dogs and clients dogs understand the task at hand. She starts every training sessions with this question "how can I set the dog up for success and give the dog the best information to successfully complete the behavior".
To learn more about Bobbie visit:
Frequently Asked Questions
When does the class start and finish?
Read each class description to find out when class starts. Some start right after you enroll and some will start after the enrollment period ends. New material will be posted every 7 days after class begins to allow you time to process the information and start the training process. Video review and commenting will be open for 90 days from the start of class allowing you plenty of time to work through the material, take and edit video and formulate your questions as well as allow the instructor time to review and give feedback. We have built in extra time after all class materials are available so that students that are behind or students still working on behaviors can ask questions and post video for review and comment.
How long do I have access to the class?
For one year from the start of class. The school reserves the right to modify, update or remove this class at any time.
What is your refund policy for current classes?
You will receive a refund if you request your cancellation at least 1 day before the class begins. There are no refunds after class has started.
What if I am unhappy with the class?
We make every effort to offer valuable information at an affordable rate. We suggest you read the class description carefully before making your purchase to determine if the class is right for you. Because there are many levels of trainers, there will be material that is review for some and new to others. For those that are review, it will give you an opportunity to look at what you have trained and refine the behaviors as needed. If you are unsatisfied with your purchase, please contact admin at
[email protected]
Can instructors diagnose or treat injury?
No - instructors and assistant instructors cannot diagnose or treat injury. They can design fitness plans for healthy dogs or dogs that have a written release from veterinary care and/or veterinary rehabilitation care.