Enrollment Begins 10am Pacific on: July 1st, 2021 
and Ends: July 15, 2021 @ Midnight
Create a Better Jumping Behavior!
Learn to Support Your Dog in Every Jumping Situation, to Jump Safe and Land Clean!
Safe jumps and safe landing gives a better feeling to the human and dogs. Make sure that your dog feels confident in every jump.
Having more control over their body when jumping and landing also gives our dogs more self-confidence and gives them confidence in themselves.
Not every dog is a good jumper by nature, these techniques will help you to support your dog in every jump.
✔️ Improve the jumping technique of your dog with specific exercises.
✔️ Learn how to strengthen and support your dog to always find the right jump.
✔️ Improve your timing and your eye to see how you can help your dog.
✔️ Establish a pattern of movement so that your dog lands safely after each jump.
Who should participate?
→ Any Healthy Dog!
Suitable for any dog sport that requires jumping:
Agility
Disc/Dog Frisbee
Dock Diving
Obedience
Protection Sports
(any hair length can participate and you won't need to shave any fur)
Why take this class?
➤ Learn what equipment to use, and what points your dog needs to pay attention
➤ Learn on which point your dog needs to collect and how they have to behave during the jump
➤ Learn how you can fix this in your dog's mind, so that they can jump like this, without any help of the equipment at the end
➤ Learn how you can support your dog's jumping with Tape and how to handle the Tape
Advantages of the Online Class
✔️ Convenience of online learning
✔️ More time to learn the material than the traditional in person class format
✔️ Work at your own pace in the convenience of your home
✔️ Access to the material for at least 1 yr.
What's Included?


Discussion Threads
There will be discussion threads to ask questions.
Video Review
Working students can submit up to 3 minutes of video per lesson for instructional review. NEW for 2021 - Video review is done by screen-casting for a more personalized experience. Screen-casting is audio-visual feedback (the next best thing to a 1:1 conversation)
Start Date
Class will begin right after you enroll. This class is always open so some students will be ahead of you and some will be behind you.


Format
Each class is broken into lessons, with one or more exercises within each lesson.


Timelines
The class is open for video submission, questions, review and comments for 90 days allowing you plenty of time to work through the material, take and edit video and formulate your questions as well as allow the instructor time to review and give feedback.
- access to material lasts for 1 yr.
The school reserves the right to modify, update or remove this class at any time.
Curriculum:
Position Object
Movement
Equipment
Tape to Jump
Exercise
Reducing
Class consists of 6 lessons with multiple lectures per lesson.
Suggested Pre-requisite - a basic understanding of the following are helpful, but not required.
▸ Any Kind of a Stay or Wait
▸ Kinesiology Taping
Want to learn more about Taping?
Consider taking our Woofletics Taping class also enrolling now.
Needed Equipment - substitution will be recommended if you don't have equipment used in the videos. FitPAWS is offering a 30% education discount. Klimb is offering a discount as well. Information to get the discount will be available upon enrolling.
▸ Rock Tape
▸ Jump
▸ Cone
▸ Klimb Platform
if you don't have a Klimb, it can be something comparable where the dog has the space to collect. If you don't have or can't use a Klimb, you can also just put a pole on the ground to define the jumping off point for your dog. The Klimb gives us more possibilities, but it is also possible to apply the techniques without the Klimb. 


...and you will not need to shave any fur for the Tape :)
There are many possible equipment options or you may use something you have laying around your house.
Training Methods - 
A variety of training methods can be used to obtain the proper movement or position - shaping, luring, targeting, and It's Yer Choice. These methods will be discussed in the video tutorials, in the forum and through video review.
Disclaimer: Some information in this class may overlap or appear in other classes due to the foundation needed for many behaviors, tricks and fitness exercises. In addition, there are overlapping skills needed for many different performance activities so you may see exercises that are the same but packaged up differently toward a slightly different goal.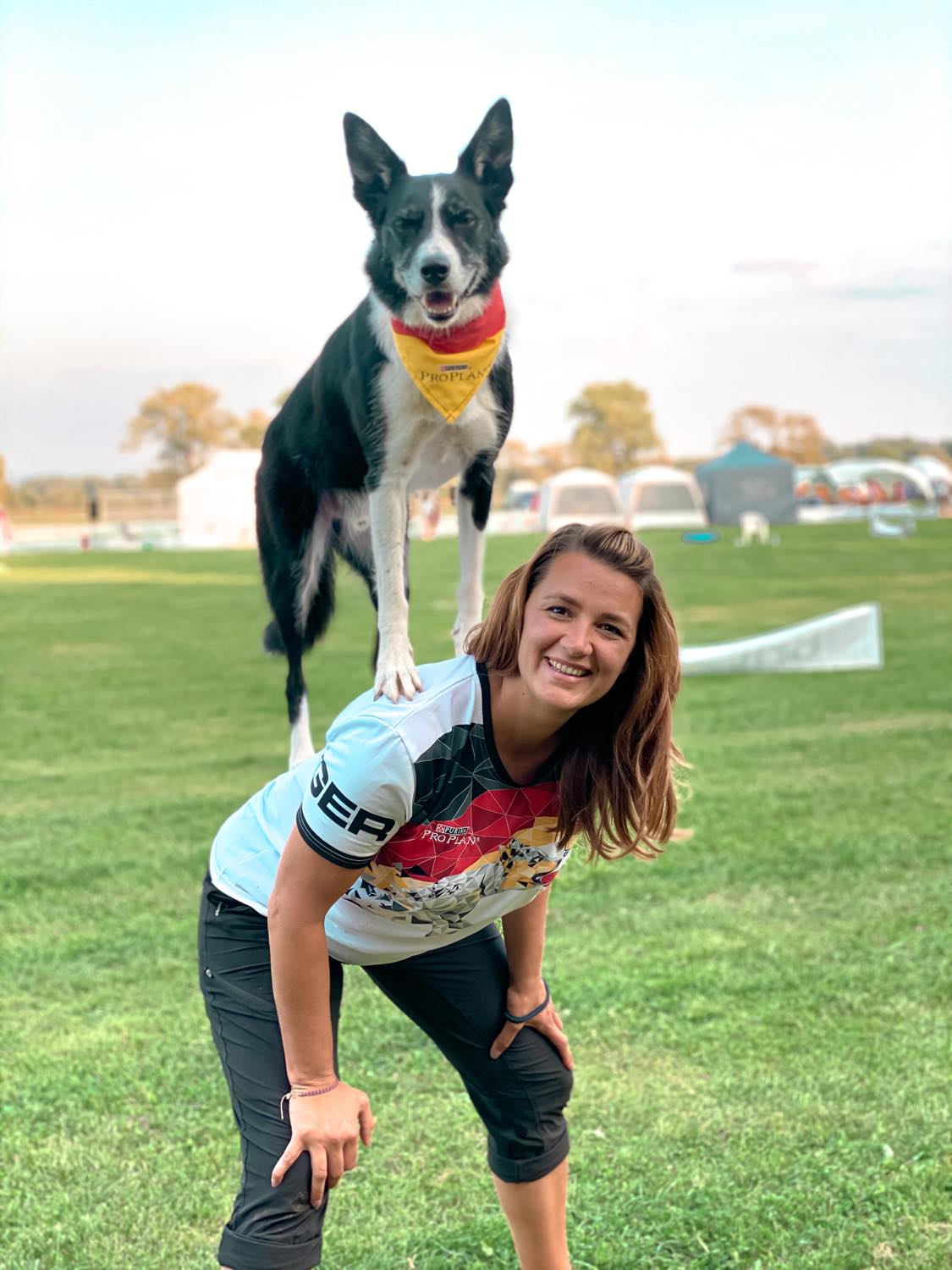 Jennifer Käferböck
IHK Dog Trainer
Certified Canine Fitness Trainer
Jennifer Käferböck is a dog trainer and Dog Frisbee player for more than 10 years. For Dog Frisbee she travels around the world to learn and teach. Her experiences in dog sports like Trick Dog, Dog Fitness, Dog Frisbee and CaniCross have sharpened her eye for movement patterns in dogs. 
To guide her dogs and those of her clients through dog sports, she has created a jumping program that helps dogs support, strengthen, and become safe jumpers from jump to landing.
In dog sports, we want to have healthy dogs by our side for a long time, who enjoy taking part in all adventures. That is why it is important to also support those dogs that do not naturally have a good jumping ability.
Pricing & Participation Options...
[ Space is Limited to 10 Workers ]
AUDITOR
$129
One-time fee, USD
---
Ask questions in the discussion threads
View video feedback recordings in the working students threads
Earn certificate of completion
WORKER
$179
One-time fee, USD
---
Ask questions in the discussion threads
Submit videos for feedback
Earn certificate of completion
This course is not open for enrollment at this time.
Questions about the course?
Email the instructor Jennifer Käferböck at