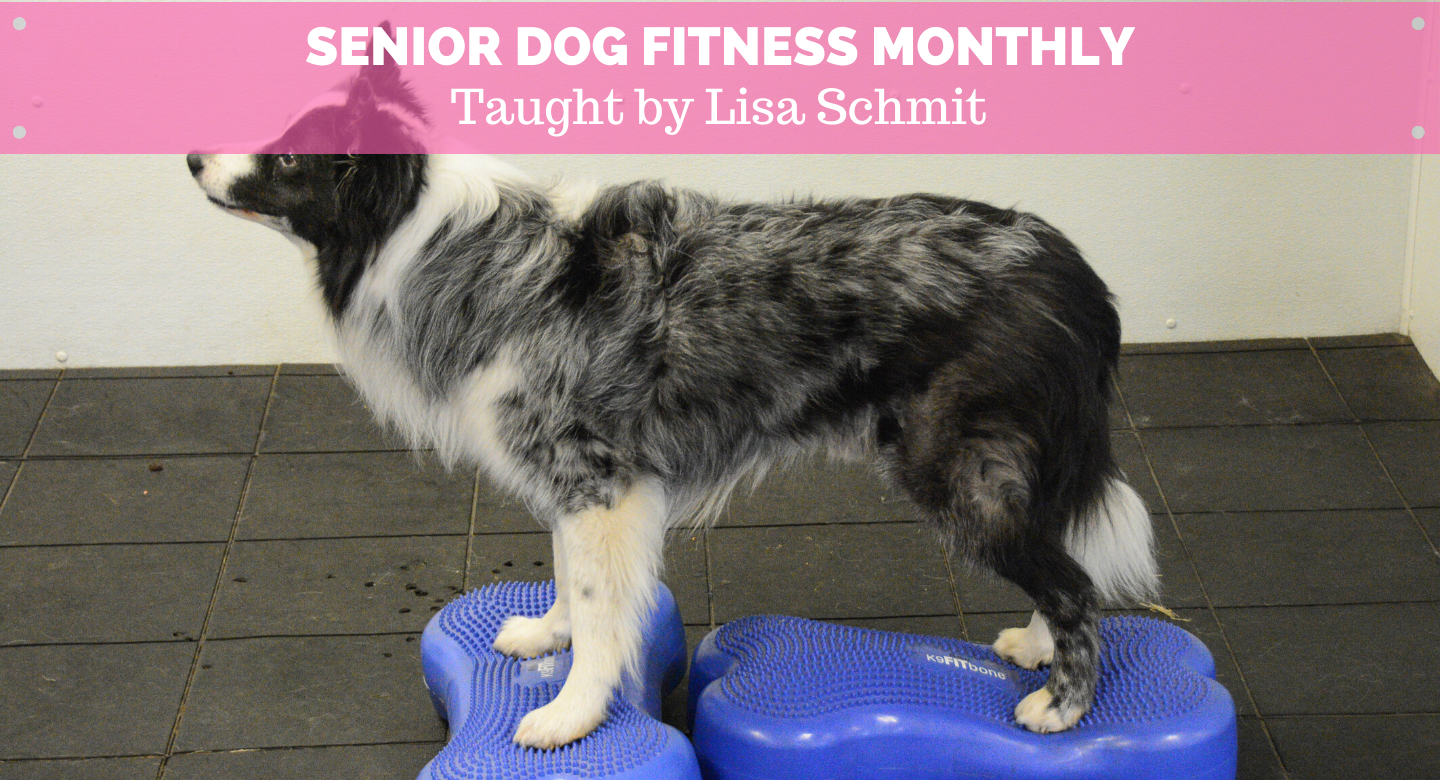 Senior Dog Fitness Monthly
Monthly Subscription or Pay Yearly

Taught by Lisa Schmit, PhD, CCFT, CPMP
Senior Dogs need mental and physical exercises too!!!!
This class will not repeat the exact workouts from the senior dog fitness class.
New Workouts will be given!
As dogs age, they tend to gain weight, become less active, sleep more and lose mental focus. Just like humans, dogs also find it harder to move around due to deteriorating muscle mass, arthritis (or other diseases) and just normal wear and tear on their aging bodies. The less they move, the more muscles atrophy, balance diminishes and the less they move. In order to keep senior dog at the best quality of life we need to keep senior dogs moving. Fitness is essential for keeping our senior dogs mobile and active. A structured exercise program benefits senior dogs by keeping muscles toned and flexible while maintaining balance, stability and function. Conditioning the senior dog also helps to mentally exercises the mind of the dog and also enhances the relationship between you and your dog. The main goal of exercising senior dogs is to keep them moving and functional at life so they can maintain a good quality of life as they age.
Senior dogs cannot do what they once did as young dogs so we must be mindful to create an exercise plan geared toward their physical and mental ability. This class will teach you how to do safe, fun exercises for senior dogs that will help improve body awareness, flexibility, balance, front, hind-end and core strength. It also provides mental stimulation to keep our senior dogs mind working well too!!
Why Take This Class?
Learn Fun, Safe Exercises for your Senior Dog
Lectures on Specific Issues Related to Senior Dogs
Provide Mental Stimulation
Enhance Human Dog Relationship
Detailed feedback on your homework
Ability to watch all homework videos and instructor feed
There will be discussion threads to ask questions and post video for review. Everyone is a participant. You can submit several short videos throughout the month for instructional review up to a max of 10 minutes total.
What Level Are the Exercises?
Since this is a senior dog fitness class, exercises will be beginner to intermediate level. Videos will have dogs varying in age from age 7-16 demonstrating the exercises.
Each month you will get:
one "complete" workout plan with variations for level of dog. Many months will include bonus videos with other senior dogs I am working with.
a guideline for reps and set
equipment used and possible substitutions
proper position and posture
training tips
video feedback
all your questions answered
Who Should Participate?
This class is geared towards senior dogs but any age dog is welcome in this class!
Possible Equipment - Balance Pads, Bones, Ramps and Cones will be used. I will also use other balance equipment but substitutions can be made. There are many possible equipment options using household items such as your couch cushions!

Training Methods - A variety of training methods can be used to obtain the proper movement or position - shaping, luring, capturing, targeting and molding. These will be discussed in the video tutorials, in the forum and through video review but every tiny step will not be demonstrated in the instructional video. You will need to break each behavior down into small pieces so that your dog understands what is being asked.
Disclaimer: Some information in this class may overlap or appear in other classes due to the foundation needed for many behaviors, tricks and fitness exercises. In addition, there are overlapping skills needed for many different performance activities so you may see exercises that are the same but packaged up differently toward a slightly different goal
Your Instructor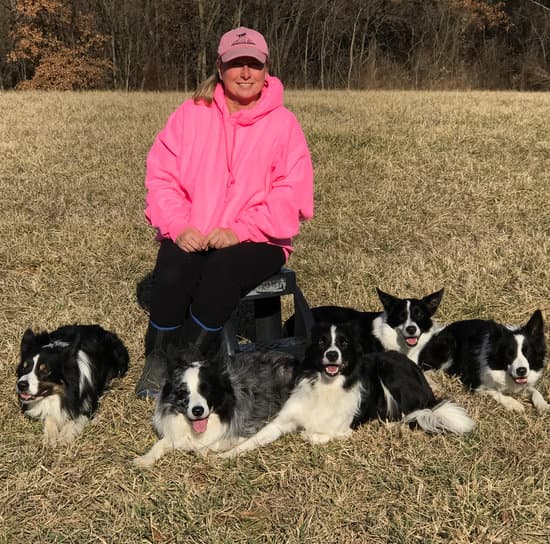 Certified Canine Fitness Trainer
Certified Pet Massage Practitioner
Bobbie Lyons K9FITteam Member
Lisa is the owner of In The Zone, LLC.and is one of the most accomplished handlers in NADAC. Her consistent, clear positive approach to dog training is evidence with her continual success with multiple dogs! She offers agility, conditioning and massage seminars across the continent and puts on about 12 NADAC trails a year.
Lisa has come home from the NADAC Championships with 10 trophies with 5 different dogs. She has finished in Overall Top 3 at NADAC Champs 22 times with 9 different dogs including her Brittany and Aussie. Tandem, JP7 and Revolution earned the coveted Purple MODSQUAD award--Master of Distance and Speed which requires high level distance handling and speed. Less than 25 dogs in the world have this award and Lisa has three of them. JP7 and Tandem earned the Distance Cup Award. Nine of her dogs have over 175 NATCHES, over 45 Speed Stars. Eight of her dogs have almost 200 Bonus Runs (requires big distance skills). Her dogs are consistently in the Top 10 every year and in most categories in the NADAC Hall of Fame.
To learn more about Lisa visit: www.inthezoneagility.com
Frequently Asked Questions
When does the class start and finish?
Class officially starts the day after the enrollment period ends. New material will be posted once a month. This allows you time to process the information, videotape and submit the exercises. Class lessons/workouts, video review and commenting will be open until January 31, 2021.
How long do I have access to the class?
For one year from the start of class. The school reserves the right to modify, update or remove this class at any time.
What is your refund policy for current classes?
You will receive a refund if you request your cancellation at least 1 day before the class begins. There are no refunds after class has started.
What if I am unhappy with the class?
We make every effort to offer valuable information at an affordable rate. We suggest you read the class description carefully before making your purchase to determine if the class is right for you. Because there are many levels of trainers, there will be material that is review for some and new to others. For those that are review, it will give you an opportunity to look at what you have trained and refine the behaviors as needed. If you are unsatisfied with your purchase, please contact admin at
[email protected]
Can instructors diagnose or treat injury?
No - instructors and assistant instructors cannot diagnose or treat injury. They can design fitness plans for healthy dogs or dogs that have a written release from veterinary care and/or veterinary rehabilitation care.