ONLINE WORKSHOP Registration August 1, 2021 - August 15, 2021
[ workshop starts on August 15th ]
Learn Safe Exercise Options for Pet Dogs
How to Structure a Pet Dog Fitness Class
Add Fitness to Your Current Class Schedule or Service Offerings
This is the same popular in-person workshop, now adapted for the online learning environment.


Geared toward those that want to teach pet dog fitness classes.
If you have ever wanted to add fitness to your class schedule, this is the workshop for you!
Who Should Participate?
→ Dog trainers that want to teach pet dog fitness classes
→ Dog trainers that want new ideas for current fitness classes
→ Dog trainers that offer "day training" and want options for mental stimulation and recreation
→ Dog trainers that work with aggressive and reactive dogs (put those minds to work with canine fitness)
→ Dog daycare owners that want to add canine fitness to their offer
Your Canine Students
⇢ Adult dogs
⇢ Puppies (with limited repetition)
⇢ Conformation dogs
⇢ Sport dogs
⇢ Dogs recovered from injury
⇢ Dogs that lack strength
⇢ Dogs that lack confidence
Why Take This Workshop?


➤ Understand how to engage pet dogs and owners in fitness
➤ Learn different strategies to teach canine fitness
➤ Learn how to teach pet dog owners to communicate with their dog
➤ Learn how to have fun while keeping pet dogs safe and injury free
➤ Learn the basic targeting and foundations skills needed
Advantages of the Online Workshop
✔️ Convenience of online learning
✔️ Save on travel expenses (flight, hotel, meals etc)
✔️ More time to learn the material than the traditional workshop format
✔️ Work with your own dog in the convenience of your home
✔️ Access to the material for at least 1 yr.
What's Included?


↳Real-time instruction and live Q&A via zoom LIVE sessions
↳Workshop material will be available ahead of each LIVE session (written and video)
↳Access to discussion threads and LIVE session recordings
↳Quizzes to help you absorb the material
↳Opportunity to submit videos for feedback
Includes THREE LIVE TRAINING SESSIONS packed full of useable information to begin teaching fitness classes.
Bobbie will teach using zoom, power point, and videos. You can ask questions during the live sessions as well as later in the online classroom.
LIVE sessions (approx. 2 hrs) will be held:
Aug. 24, 2021 - 4pm Pacific
Sept. 7, 2021 - 4pm Pacific
Sept. 14, 2021 - 4pm Pacific
LIVE Q&A
During the LIVE Q&A sessions Bobbie will answer questions, demonstrate live, give feedback on videos submitted for review, and if need be watch you work your dog. Additionally, all instructional material and videos will be available ahead of the online session so that you have time to:
● absorb the material
● practice with your dog
● be ready for live instruction
● formulate your questions
● videotape any skills you want feedback on
● improve posture or position of each exercise


Quizzes
Knowledge Quizzes will be available to test that you are absorbing the material.
Attending ALL the LIVE sessions and passing the quizzes earns you a Certificate of Completion.
Discussion Threads
There will be discussion threads to ask questions. 


Video Review
Working students can submit up to 3 minutes of video per session for instructional review. NEW for 2021 - Voiceover video review done by screen-casting for a more personalized experience. Screen-casting is audio-visual feedback (the next best thing to a 1:1 conversation)
Start Date
The workshop will officially start on August 15th, 2021, (written and video instruction will be posted) with the first live session on August 24, 2021. Access to material lasts at least 1 yr.
The school reserves the right to modify, update or remove this class at any time.
Curriculum:
Training of various foundation movements will be interspersed throughout all session.
Workshop consists of 4 lessons with multiple exercises per lesson... plus basic targeting skills upon sign up and bonus material at the end.
Basic Targeting - available immediately upon sign up
Front Foot Targeting
Rear Foot Targeting
Chin Rest
Nose Touch
Lesson 1 - Posts August 15th
Classroom set up, student dog evaluation
Stand / Down / Stand
Right/Left Circles
Figure Eights with Surface Training
Lesson 2 - Posts August 22nd
Working with puppies, building blocks
Rock Back Sit to Stand
Back Up
Bow
→LIVE session - August 24, 2021 - 4pm Pacific


Lesson 3 - Posts August 29th
Teaching pet dog handlers, hierarchy of reward, play
Weight Shifting Off Handler Movement
Weight Shifting off Head Movement
Side Stepping
Pivot
Lesson 4 - Posts September 5th
Class curriculum concepts
Tuck Sit and Kick Back Stand
Training a Square Sit
Pop up
→LIVE session - September 7, 2021 - 4pm Pacific


BONUS: Multi Dog Workouts - Posts September 12th
Go to Mat
Building Duration
Videos - Multi Dog Workouts
→LIVE session - September 14, 2021 - 4pm Pacific
Note: a full class curriculum is not provided but rather a thought process you can run with and adjust to the equipment you have, dog's level of fitness, and safety in your own classrooms.
What level are the exercises? 
This workshop will have beginner to advanced exercises.
Suggested Pre-requisite - a basic understanding how to positively train dogs and an open mind.
Possible Equipment – substitution will be recommended if you don't have equipment used in each video. FitPAWS is offering a 30% education discount. Klimb is offering a discount as well. Information to get the discount will be available upon registration. There are many possible equipment options but here is a basic list of what will be shown in this workshop:
▸ FitPAWS Canine Gym Agility set or hurdles
▸ FitPAWS Giant and regular size K9FITbone
▸ FitPAWS Targets
▸ FitPAWS Giant and Small Disc
▸ FitPAWS Donut Holders (donut rings)
▸ FitPAWS Rocker Board
▸ FitPAWS Balance Pad
▸ FitPAWS Paw Pods
▸ FitPAWS Ramp
Training Methods - A variety of training methods can be used to obtain the proper movement or position - shaping, luring, capturing, targeting and molding. These will be discussed and demonstrated in the video tutorials and through video review but every tiny step will not be demonstrated.
Disclaimer: Some information in this class/workshop may overlap or appear in other classes/workshops due to the foundation needed for many behaviors, tricks and fitness exercises. In addition, there are overlapping skills needed for many different performance activities so you may see exercises that are the same but packaged up differently toward a slightly different goal.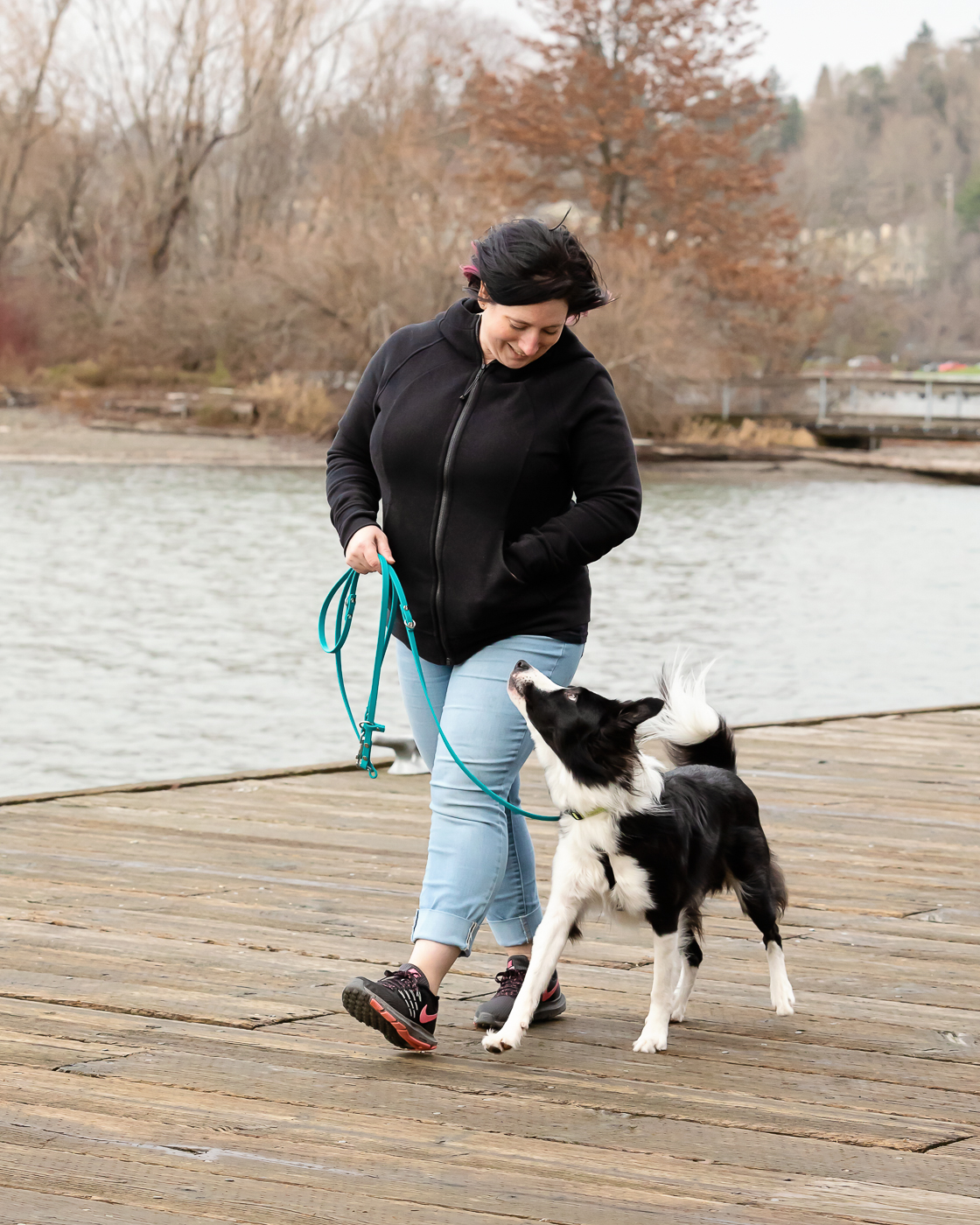 Bobbie Lyons, CCFT, KPA CTP
Certified Canine Fitness Trainer
Karen Pryor Academy Faculty
Bobbie owns and operates Pawsitive Performance which offers dog training, fitness training and trick training around the globe. She was part of the TEAM that contributed knowledge and experience to design the CCFT II Live Lab and is a course "Instructor" for the program. Bobbie also completed the certification program for Canine Fitness through the Companion Animal Sciences Institute and she is a Certified Training Partner with the Karen Pryor Academy.
Bobbie has 4 awesome dogs that train a variety of skills for agility, fitness training, trick training, tugging and dock diving. Bobbie enjoys the training process and strives to comuinicate in the best way she can to help her dogs and clients dogs understand the task at hand. She starts every training sessions with this question "how can I set the dog up for success and give the dog the best information to successfully complete the behavior".
To learn more about Bobbie visit:
Pricing & Participation Options...
[ Space is Limited to 15 Workers ]
AUDITOR
$299
One-time fee, USD
---
Ask questions in the discussion threads
View video feedback recordings in the working students threads
Take the quizzes
Watch the LIVE session recordings
Access the workshop materials for at least 1 year
WORKER
$349
One-time fee, USD
---
Ask questions in the discussion threads
Submit videos for feedback
Attend LIVE sessions
Take the quizzes
Watch the LIVE session recordings
Access the workshop materials for at least 1 year
Earn certificate of completion
This workshop is not open for registration at this time.
Questions about the course?
Email the instructor Bobbie Lyons at