<<< This course is not open for enrollment at this time >>>
Tunnels are Fun!!
Learn How to Cue Your Dog to Drive to Tunnels,
Out of Tunnels and to Turn Out of Tunnels!
Can you send your dog to the tunnel?
Does your dog drive forward confidently out of tunnels?
Can you turn our dog out of tunnels?
Can you rear cross and turn your dog away from you when they exit the tunnel? 
In this class, we will go over how to teach your dog your turn and drive forward cues!  We will work on building commitment to a tunnel and build distance driving to and out of tunnels!   We will focus on teaching the appropriate cues so our dog knows when to drive to a tunnel, when to drive forward out of a tunnel and when to turn out of a tunnel!   This class will be great fun and very informative! 
Why take this class?
🌀
Learn how to send your dog to tunnels at a distance
🌀
Learn how to cue your dog to drive forward out of tunnels
🌀
Learn now to cue your dog to turn towards you out of tunnels
🌀
Learn how to cue your dog to turn away from you out of tunnels
🌀
Learn how to drive tunnel to tunnel
🌀
Learn how to turn out of a tunnel with an off course tunnel in front 
Who should participate?
Any dog over the age of 7 months old.
There will be discussion threads to ask questions and post video for review.  Everyone is a participant. Each class is broken into sections with one or more lessons within each section. You can submit up to 5 minutes of video per section for instructional review.
Class will start on the 15th of the enrolling month. Each section will post to the site every 7 days. The course is open for video submission, questions, review and comments for 90 days after the first day of class - access to material lasts for 1 yr.
Curriculum:
Lesson 1 – Drive to Tunnel /Drive Forward Out of Tunnel to Obstacle
Lesson 2 – Turns Out of a Tunnel
Lesson 3 – Two Tunnel Exercises-Go/ Racetrack
Lesson 4 – 2 Tunnels Turn-, Go, Here, Switch, 180
Lesson 5 – In and Out to Curved Tunnel
Lesson 6 – Putting it Together Sequence
Bonus Lesson -Tunnel Sequence
What level are the sequences?
Open to all dogs over 7 months old that can perform hoops or jumps and tunnels. This is a good place for young dogs just learning these skills as well as more advanced dogs.
Suggested Pre-requisite - NONE
Required Equipment – These exercises do not require a lot of space
🌀 Lessons 1,2, 5 and 7 use 1 tunnel and 2-4 hoops or jumps
🌀 Lessons 3, 4 use two tunnels and 2-4 hoops or jumps
Training Methods - 
A variety of positive training methods can be used to achieve the correct behavior. The use of Targeting, Luring and Rewarding with toys and treats will be used. These methods will be discussed and broken down in the video tutorials, in the forum and through video review.
Disclaimer: Some information in this class may overlap or appear in other classes due to the foundation needed for many behaviors, tricks and fitness exercises. In addition, there are overlapping skills needed for many different performance activities so you may see exercises that are the same but packaged up differently toward a slightly different goal.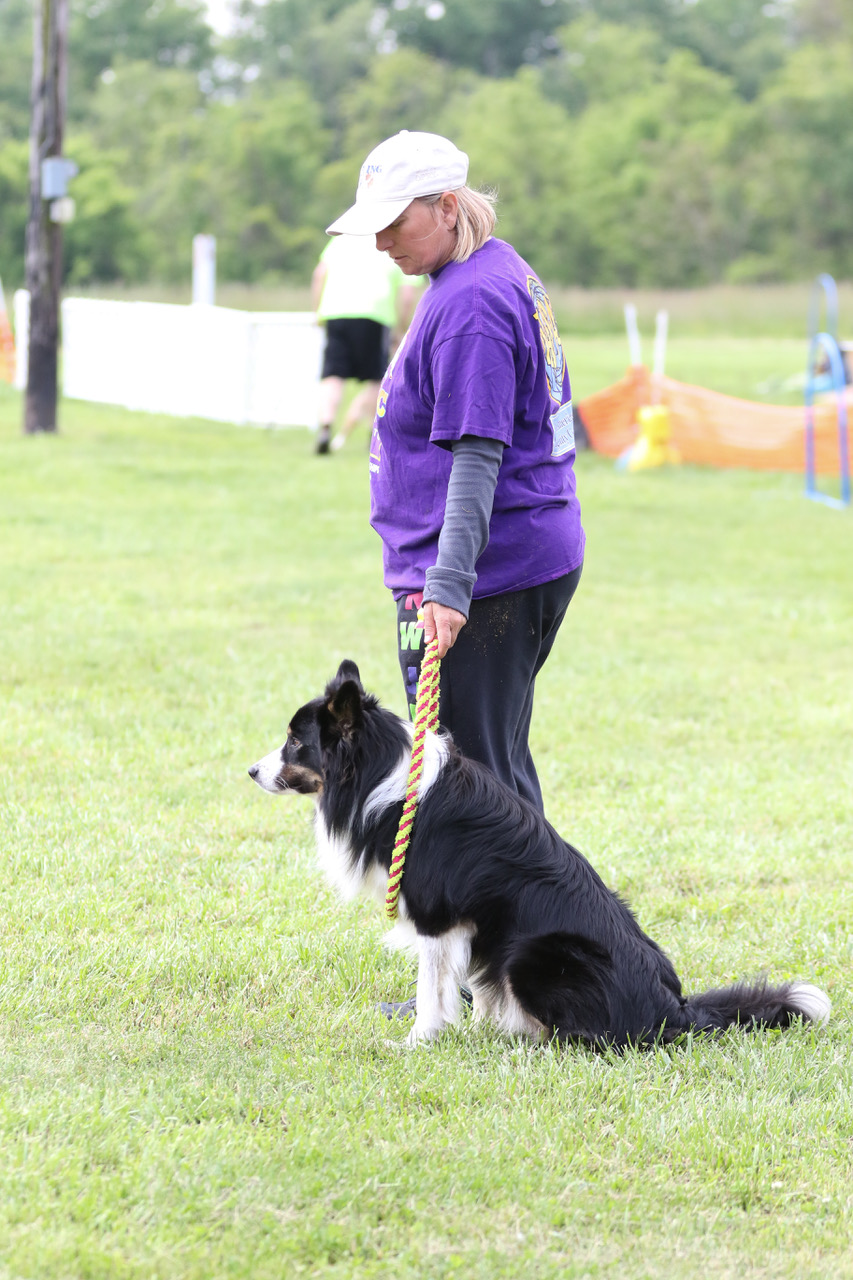 Lisa Schmit, PhD, CCFT, CPMP
Certified Canine Fitness Trainer
Certified Pet Massage Practitioner
Her consistent, clear positive approach to dog training is evidence with her continual success with multiple dogs! While she primarily competes in NADAC, her training and handling philosophy translates to all venues. Path work is paramount in all venues. Being able to draw efficient lines, speedy independent obstacles, and providing clear and consistent cues help teams compete successfully in all venues from Teacup to USDAA.
Her goal is to have amazing relationships with her dogs and for them to run fast and confidently well into their double-digit years. The core of her training philosophy is based on solid foundation skills and consistent handling to motivate her dogs in a fun and positive way. She uses a positive reward-based system of training and errs on the side of rewarding too often than not enough. She believes it is her responsibility to maintain cues in a clear, crisp, calm and confident manner. This gives her dogs confidence to trust her cues which builds relationships, speed, drive and distance. As a skill trainer, she focuses on developing, refining and rewarding obstacle performance and handling. She believes groundwork and foundation skills are the building blocks to success. She trains in short fun sequences so she can train various handling options, push for distance and reward often. She trains skills and obstacles so that her dogs are confident in their ability to understand her cues and to perform obstacles efficiently, at speed and at a distance.
This course is not open for enrollment at this time.
Frequently Asked Questions


When does the class start and finish?
Class officially starts the day after the enrollment period ends. New material will be posted every 7 days after class begins to allow you time to process the information and start the training process. Video review and commenting will be open for 90 days from the start of class allowing you plenty of time to work through the material, take and edit video and formulate your questions as well as allow the instructor time to review and give feedback. We have built-in extra time after all class materials are available so that students that are behind or students still working on behaviors can ask questions and post videos​ for review and comment.
How long do I have access to the class?
For one year from the start of class. The school reserves the right to modify, update or remove this class at any time.
What is your refund policy for current classes?
You will receive a refund if you request your cancellation at least 1 day before the class begins. There are no refunds after class has started.
What if I am unhappy with the class?
We make every effort to offer valuable information at an affordable rate. We suggest you read the class description carefully before making your purchase to determine if the class is right for you. Because there are many levels of trainers, there will be material that is review for some and new to others. For those that are review, it will give you an opportunity to look at what you have trained and refine the behaviors as needed. If you are unsatisfied with your purchase, please contact admin at [email protected]
Can instructors diagnose or treat injury?
No - instructors and assistant instructors cannot diagnose or treat injury. They can design fitness plans for healthy dogs or dogs that have a written release from veterinary care and/or veterinary rehabilitation care.